London after dark is a whole new world, with an endless list of exciting events and spectacular sights on offer to wow both tourists and Londoners alike. If you're looking for fun stuff to do in our capital city, we highly recommend visiting under the cover of darkness and taking to the Thames to experience London like never before.
In this article, discover all the interesting things you can do and see when you board a Uber Boat by Thames Clippers sailing in London at night-time.
The River Thames at night
The Thames by night is a truly beautiful sight to behold. As darkness falls, it takes on a new character entirely, leaving the sunlit exposure of its many twists and turns behind and becoming a riddle of a river just waiting to be explored.
 Experience the Illuminated River official boat tour
Departing from Tower Pier at 9:30pm, you can experience an orchestrated series of vivid, environmentally-friendly LED lights spanning 9 bridges across central London at night.
Watch the capital's bridges illuminate at night as you take a guided tour alongside some of London's most interesting landmarks in one of our comfortable boats.
If you like the sound of this excursion, you'd better hurry because it's only currently running on Thursdays or Saturdays until 26th May 2022. Tours last for approximately 40 minutes.
Book the official Illuminated River boat tour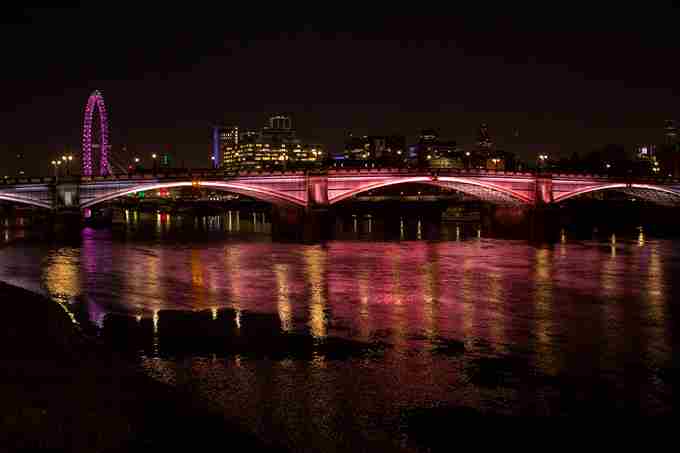 The novelty of sightseeing at night-time
If you've seen the sights of London in the daytime more times than you can count, then London sightseeing at night by boat should be next on your to-do list. You may think that there aren't many places to see in London at night, but you'd be wrong! By the time darkness falls across the city, the sights of London come alive in a completely different way, and the lit-up buildings magnificently accentuate the city's skyline.
Uber Boat by Thames Clippers operates late into the evening and stops at 24 different piers along the river Thames, from Barking Riverside Pier in the east to Putney Pier in the west, so you can see the best sights the city has to offer.
Stop at Tower Pier and witness the glowing beauty of Tower Bridge all lit up like a Christmas tree – or stay on board and sail beneath its lively luminosity.
Head over to London Eye (Waterloo) Pier, as the London Eye at night – breathtaking in all its illuminated glory – is definitely not to be missed. Canary Wharf also looks particularly impressive at night, as does the tallest building in London – the Shard.
At Battersea Power Station Pier you can take in yet another vibrant sight as the subtle red colouring of lights reflects from the Power Station's chimneys at night.
You could even disembark at Westminster Pier and experience the spectacular, sort-of-spooky ambience of Westminster Abbey as it looms majestically in the dead of night.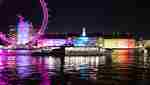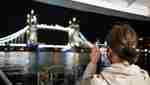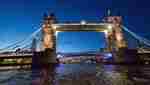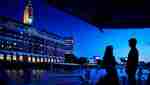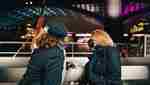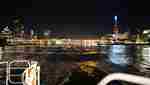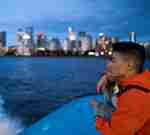 If you're planning a romantic night out in London but you've done the standard dinner and drinks date to death, why not up your game? A romantic river cruise along the Thames on a pleasant spring evening is sure to sweep your significant other off their feet, with the quiet calm of the river wonderfully juxtaposed with the vibrant buzz of London's nearby nightlife.
Gently glide across the soft waves with the warm wind in your face and the thrill of possibility on the horizon. You can also sip and snack as you sail, thanks to our onboard café bar. Prosecco can be purchased on board, too – and nothing says romance quite like bubbles!
Then, why not disembark at Westminster Pier for a moonlit stroll through St. James's Park?
We even offer Post-Show Express Sailing services for select events at The O2, allowing you to easily board a boat after seeing a show and enjoy a leisurely trip back to central London while you take in the sights.
Late night shopping in London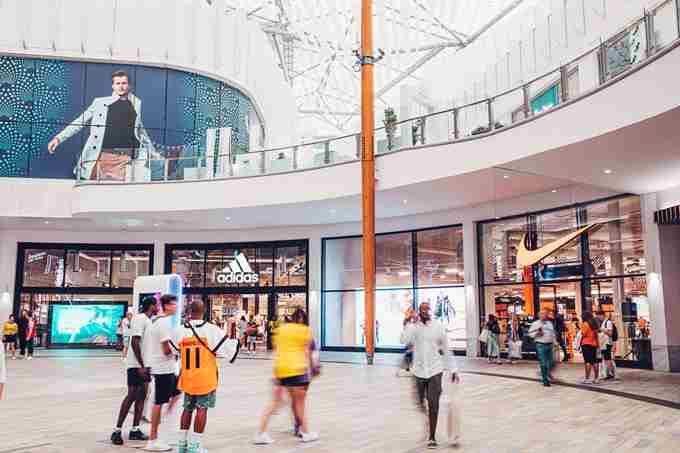 If you're not a fan of the hustle and bustle of daytime shopping, go at night! Uber Boat by Thames Clippers runs 7 days a week from early in the morning until late in the evening, giving you plenty of time to shop around London until you drop, with the added quirk of travelling by water.
Hit some of the hottest shopping destinations London has to offer. East Colonnade Market at Covent Garden (Embankment Pier) closes at 7pm, while Icon Outlet at The O2 (North Greenwich Pier) closes at 8pm on Fridays and Saturdays.
One New Change, a popular shopping centre overlooking St Paul's Cathedral, boasts a multitude of shops and restaurants and stays open until at 8pm on Thursdays and Fridays. Plus, it's just a short 10-minute walk from Blackfriars Pier.
Late night Museum openings
For some entertainment hop off at Embankment Pier for the West End or to enjoy some culture. The National Gallery remains open until 9pm every Friday and the National Transport Museum in the heart of Covent Garden welcomes you after hours to their Lates events on selected Friday evenings.
Every first Thursday of the month you can go to London Mithraeum until 8pm and see a restored Roman temple in the basement of Bloomberg's European headquarters not far from Blackfriars Pier.
Plan your London night-time river ride adventure today
Ready to experience London by night aboard Uber Boat by Thames Clippers?
Plan your adventurous evening in London today!