Guaranteed seat

Comfortable seats in climate controlled cabins or enjoy the fresh air on the outside back deck. 

Café bar

A whole range of refreshments are available from the onboard café bar.

Bikes permitted

Bring your bike on board at no extra charge. We can currently carry up to 14 bikes on our largest vessels. Pets are also welcome.

Toilets

There are toilets with accessible facilities on board most of the fleet. Our larger boats also have baby changing tables.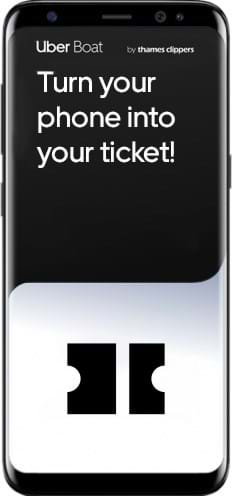 Commute by river
Save time and money, download the Thames Clippers Tickets app. Buy season tickets and flexible ticket carnets.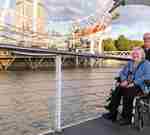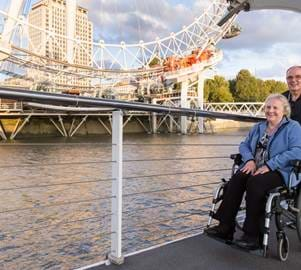 Boat Accessibility Information
All our boats are wheelchair, mobility scooter and pram accessible by ramp. All boats, except Star, Storm and Sky Clipper, have accessible toilets and larger boats have baby changing tables.
Piers

All our piers are step-free and wheelchair accessible except for Cadogan, London Bridge City and Wandsworth Riverside Quarter piers.

Mobility scooters

Guide and Assistance dogs

You can bring your guide or assistance dog on board for free.

Carers travel for free

Any person with a valid Disabled I.D. badge/card, will get 50% off ticket fares and a complimentary ticket for their carer.
Latest service updates
For the most up to date information on our services please follow @thamesclippers on X (formerly known as Twitter). You can also find live departure information at the piers or on the Thames Clippers Tickets app.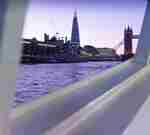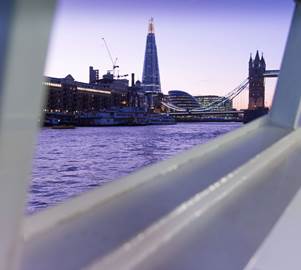 Thames River Cruises 
Uber Boat by Thames Clippers is the fastest, most frequent and reliable fleet on the River Thames - carrying over 4 million passengers last year.
Unlike most other forms of public transport, we are always reliable - the only days our river boats don't run are Christmas and Boxing Day.
Thames River Boats 
Our Thames river boats are fully equipped with comfortable seating and plenty of space. Our larger river boats all have licenced on-board bars, with a range of coffees, snacks and alcoholic drinks. They all have toilet facilities, and some even have baby changing facilities. Our Thames river buses have Metro and City AM newspapers available on board and Free Wi-Fi is available at our main piers.
The experience of travelling through London on a Thames river bus is unlike any other form of travel, providing an epic experience for its users. Far more enjoyable than struggling for space on a packed London Underground tube, quicker than driving or getting the bus, and less exhausting than walking or riding your bike!
Our History 
Starting in 1999 with just one boat in operation, our fleet has grown exponentially to 20 high-speed Thames river boats, offering services from all major London piers every 10-20 minutes. Our services cater for everyone from early morning commuters to night-time passengers.
There are countless reasons to choose a London River Bus over any other form of transport – choose a Thames river cruise next time you need to travel through London.