On this page you will find information about access to our piers but also the accessibility on board our vessels. Scroll down to read about discounts for people with disabilities and carers and how to apply for our Mobility Scooter Recognition Scheme.
We want to make travelling across London by River Bus easier for people with disabilities including hidden disabilities, people who are older and those travelling with children. We want to give you the confidence to make full use of our services.
Our staff at piers and crew on board the boats are more than happy to offer help and assistance as required.
Subjects covered on this page:
Rough Guide to Accessible Britain
We're proud to be featured in the newest edition of the Rough Guide to Accessible Britain, a guidebook detailing the UK's best accessible days out.
Tickets
Adults with disabilities
Any person with a disability will receive a 50% discount. 
Any person with a Freedom Pass, 60+ Oyster card or UK regional senior bus pass will also receive a 50% discount. Please be sure to bring your relevant pass with you when you travel to validate your discount.
The discount applies to Single, River Roamer and season tickets. Doesn't apply to return tickets or carnets.
To claim your discount, please choose the "Concession" fare when purchasing your ticket. 
Travelling with a carer
If you require the assistance of a carer we will issue a complimentary companion ticket to match your own from any of our staffed ticket offices.
You can also buy a single, return or river roamer pass with a carer's companion ticket in the Thames Clippers Tickets app; just choose the "Concession + Carer" pricing option. This option isn't available on our website. 
Should you require the assistance of more than one person or you have a season ticket and need one for your carer please contact our Customer Service team at least 3 working days before you travel.
Children with disabilities and their carers
Children up to the age of 10 must be accompanied by an adult at all times. Please refer to our conditions of carriage for additional information.
Children 4 and under go free (up to two free children per paying adult); if you're the registered carer of a child 4 or under with a disability, you can benefit from the concession discount.
Children between 5-15 get 50% off our fares as per standard; if you're the registered carer of a child 5-15 with a disability you can benefit from a complimentary carer's ticket please read our section "Travelling with a carer"
Sunflower Lanyard Scheme
Not all disabilities are visible, and so, we're very proud to be a part of and recognise the Sunflower Lanyard Scheme. Our teams have access to the training materials provided by the scheme to better support customers and members of the public with hidden disabilities.

Pier Accessibility

All our piers are step-free and wheelchair accessible except for Cadogan, London Bridge City and Wandsworth Riverside Quarter piers. This is because the brow can become too steep, dependant on the tide, at these locations, making it unsafe for wheelchair users.
The closest accessible piers are:
Battersea Power Station Pier across the river from Cadogan
Bankside Pier for London Bridge City
Putney or Plantation Wharf Pier for Wandsworth Riverside Quarter
Customer Service Assistants are here to help all customers at London Eye, Westminster, Embankment, Bankside, London Bridge, Tower, Canary Wharf, Greenwich and North Greenwich piers from 10:00-18:00.
We have a list of what3words addresses for our wheelchair accessible pier entrances on our 'Find your pier' page.
what3words is an easy way to find and share exact locations. Every 3 metre square has its own unique three word identifier. For example, ///taking.uses.strong is the what3words address for the entrance to Tower Pier. By using the what3words addresses, you can save time and hassle by knowing exactly where you need to go to board our services.
Boat Accessibility
All our boats are wheelchair, mobility scooter and pram accessible, we use ramps for boarding.
All boats, except Star, Storm and Sky Clipper, have accessible toilets and larger boats have baby changing tables.
Members of our Mobility Scooter Recognition Scheme are able to bring their mobility scooters on board. Learn more
We're also very pleased to now recognise TfL issued Mobility Aid cards on our services. If you have one of these cards, this is all you need to bring your mobility aid on board our services.
All wheelchairs, including electric wheelchairs, are welcome on board and there is no need to reach out to us before travelling unless you wish to do so.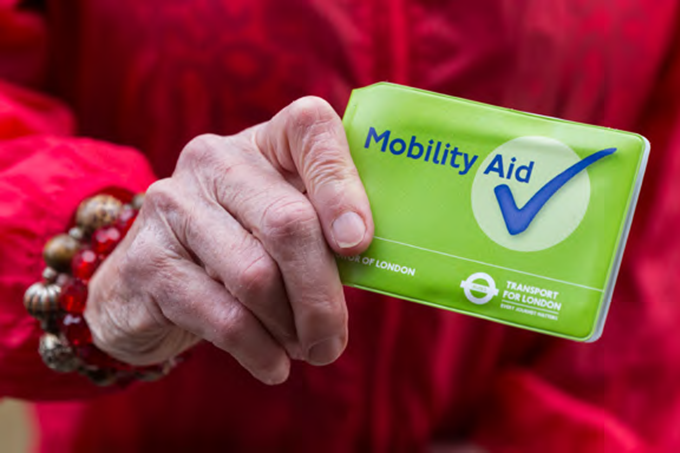 Wheelchair spaces on board
All our boats are wheelchair accessible with designated parking areas for wheelchair users.
Some of our boats are different to others, which means the designated wheelchair space may be located in a different area of the vessel. You can find them by looking for the wheelchair signage or by asking a member of crew.
For safety reasons wheelchairs and mobility scooters are not allowed on the back deck as escape routes must not be restricted, following the Maritime and Coastguard Agency regulations to which we adhere.
A user with mobility impairments who chooses to transfer themselves to a seat and whose wheelchair can be folded can sit anywhere on the boat.
Our larger boats can accommodate up to four wheelchairs, depending on the vessel, and a further three folded wheelchairs. Electronic wheelchairs are also welcome.
Designated wheelchair parking area on board Venus Clipper. 
Find out more
Audio and Visual Information
All of the boats have audible next stop announcements on board, letting passengers know which stop is coming up. If you have difficulty hearing, please ask one of the crew to indicate your stop to you once on board.
The piers have visual next boat information, letting passengers know when the next boat will arrive and where it is going to. At our staffed piers the team will be happy to provide next sailing information, please do reach out to them.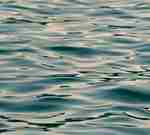 Mobility Aid Recognition Scheme
The Mobility Aid Recognition Scheme is in place to support passengers wishing to bring their mobility aid aboard Uber Boat by Thames Clippers' vessels. We recognise the TfL Mobility Aid card, and if you have one of these, this is all you need to bring your mobility aid on board our services.
For safety reasons, we are not able to accommodate all mobility aids. Scooters that use combustible fuel are not permitted on board any of our vessels. As we operate different types and sizes of vessel with different types and sizes of boarding gangway at each pier, some mobility scooters may be too large or unable to negotiate tight turns.
Generally, Class 3 mobility scooters are not suited for travel on our services. For your safety and well-being as well as those of all passengers and crew, the make and model of your mobility scooter must firstly be reviewed by our Safety Team before it can be brought on board. This usually only takes one working day, but please allow a few days before your first intended date of travel to avoid disappointment.
Once your mobility scooter is approved, we will send you a 'Mobility Aid Card' which you will need to show to our staff to bring your mobility scooter on board our vessels. Please note that passengers who are unable to present their Mobility Aid Card will not be permitted to board their mobility aid.
To check if your mobility scooter can be accommodated on our vessels and receive your Mobility Aid Card, please email web@thamesclippers.com with the following details:
Email subject: Mobility Aid Recognition Scheme
Make & model of the scooter that will be used for travel
Contact details of the person using the mobility aid

Full name
Address
Telephone number
If your mobility aid is approved we will then send you a 'Mobility Aid Card' which you can show to the pier staff and crew; this signifies to them that your mobility aid is approved for travel.
As the user of the mobility aid, when accessing our gangways, please consider the following advice and only proceed if you are confident it is safe to do so:
If your scooter has three wheels, extra care needs to be taken when driving off the gangway due to the gradient on some piers, inclement weather and the potential movement of the gangway.
When driving off the gangway avoid turning the steering until the back wheels are firmly on the pier.
If you have any concerns please speak to a crew member who will be pleased to assist you.