We have resumed service
Updated 14 October 2020
As things gradually start to resemble how they were, we have made a number of changes to allow for a safer transport option through London and to help you make travelling by Uber Boat by Thames Clippers part of your new normal. We have introduced new safety measures that mean Visit England have granted us Good To Go status and the AA have certified us Covid-confident. We have also introduced new ticket options that will help you save money on less-frequent journeys. Find out more about our return to service below.
Remember: you must wear a face covering and maintain social distancing rules whilst using public transport. Please wash your hands when possible and use the hand sanitiser provided on board. All passengers are recommended to register for NHS Track and Trace.
Timetable
Please check our timetable before you travel. To help take pressure off London's other forms of public transport, we are gradually increasing our services as our valued customers return to work and start to make more journeys.
Updates to weekend timetable from Saturday 19 September
RB1's weekend departure times have changed to restore the service's 20-minute frequency.
RB4's departure times altered slightly to provide better interchange with the new RB1 timetable.
RB5, the weekend shuttle service between Woolwich (Royal Arsenal) and North Greenwich piers via Royal Wharf Pier, has been reinstated.


No changes have been made to weekday RB1, RB2 or RB6 departure times since Wednesday 5 August.
Service patterns
RB1

On weekdays, RB1 is operating from 07:03 until 21:02 to a 20-minute frequency during peak times and 30-minute frequency throughout the day.
On weekends, RB1 serves all piers from North Greenwich to Battersea Power Station every 20 minutes from 08:31 until 21:52.

RB2

Our Tate to Tate service currently operates 10:17-16:35 on weekdays. On weekends, please use RB1 to travel between Bankside Pier for Tate Modern and Millbank Pier for Tate Britain. 
On their way in to, and out of service, RB2 now calls at piers in the East River Zone. This helps to alleviate pressure on our RB1 service and provides a direct connection between Battersea Power Station Pier and North Greenwich Pier for Icon Outlet at The O2.

RB4

RB4 operates 07:25-1233 and 16:45-20:08 on weekdays.
On weekends RB4 operates from 09:45 until 20:03.

RB5

The weekend shuttle service between Woolwich (Royal Arsenal) and North Greenwich piers via Royal Wharf Pier operates from 12:30 until 17:40 every 30 minutes.
RB1 continues to serve piers east of North Greenwich in the mornings and evenings on weekends.
RB6

RB6 continues to serve the Central and West River Zones at roughly 30-minute intervals during commuter times on weekdays (06:00-11:50 and 15:00-22:11).
Some RB6 services also call at select piers in the East River Zone.
Flexible Carnet Tickets
Flexible Carnet Tickets are available through the Thames Clippers Tickets app and the Uber app. Carnets come in 4, 6, 10 or 20 ticket options. Flex 4 or Flex 6 Ticket Carnets can be used to make four or six journeys over a one week period. With a Flex 10 or Flex 20 Ticket Carnet, you can make ten or twenty journeys over three months. Compared to tapping in and out on an Oyster or contactless payment card to pay as you go, you could save up to 20% with a Flexible Carnet Ticket!
Park & Glide
With our new Park & Glide tickets, you can avoid using other modes of public transport by parking your car at The O2 and riding the River Bus into town! The O2 is located outside London's ULEZ and Congestion Zones so you can avoid paying costly central London parking fees. Family tickets also available.
Safety Measures
New safety and social distancing measures have been introduced at both piers and vessels, and we have implemented an enhanced cleaning regime.
Please be aware that you are legally required to wear a face covering and respect social distancing rules whilst using public transport. We have installed hand sanitiser stations on all our vessels and reduced their capacity to aid social distancing.
Before the Covid-19 pandemic, Thames Clippers carried 1.4 passengers per square metre at peak times. With the new social distancing measures in place, this has been reduced to just 1.1 passengers per square metre. For context, before the Covid-19 pandemic, there were 5-7 passengers per square metre on the London Underground; with its current social distancing measures, Transport for London (TfL) has managed to reduce this to around 1.3 passengers per square metre.

Safe procedures are in place to allow fresh air to pass through the cabin whilst the boat is underway and passengers still have the option to sit on the outside back deck (please note, you are still required to wear a face covering on the back deck).
Vessel capacities have been reduced to accommodate social distancing, this does also mean that our vessels can now carry more bicycles than we would ordinarily; between 15-20 bikes per sailing subject to the vessel type. This is a doubling of bike capacity in some cases.
For a detailed list of all the safety measures we have implemented please read our COVID-19 related safety measures web page.
COVID-19 safety measures
We're Good to Go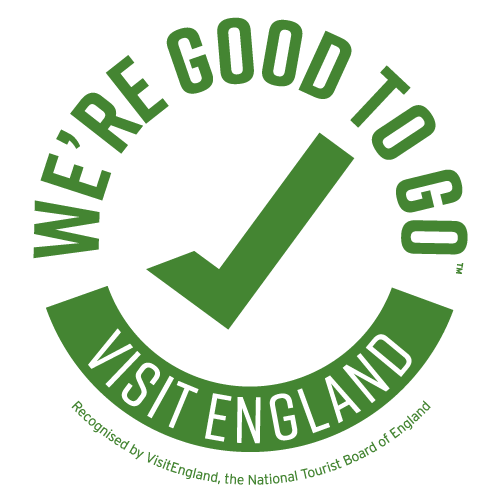 Vist England have awarded us the Industry Standard mark which means we have followed government and industry COVID-19 guidelines. We have implimented a COVID-19 Risk Assessment and have recognised processes in place to maintain cleanliness and aid social distancing.
Find out more about the We're Good to Go industry standard.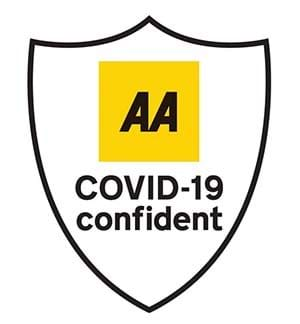 We have also been approved as Covid-confident by the AA and are following national guidelines for Covid safety. The AA's assessment confirms that we have the necessary measures in place for a safe visit.
Onboard café bar
We're happy to share that the onboard bar is now open with a number of new safety measures in place, including cashless payments only, clear glass screens, and no open food being sold. Customers are required to order from their seat to help maintain social distancing, you can use our in-seat ordering service which is available on smartphones by visiting thegoodtill.com/thamesclippers.
Please note that until we are back to full service not all vessels will have an open café bar. The following weekday morning RB1 sailings provide a bar service:
7:33 from Woolwich (Royal Arsenal) Pier
8:13 from Woolwich (Royal Arsenal) Pier
9:05 from Woolwich (Royal Arsenal) Pier
All other RB1 sailings bar service will start at a later time. RB6 is covered on an ad hoc basis.
Track and Trace
Café bar customers are requested to register their contact details for the purposes of NHS Track and Trace as of Friday 18 September 2020.
A word from Sean Collins, our co-founder and CEO:
A word from Sean Collins, our co-founder and CEO:
"It is key that we can support London and its commuters with the ease of lockdown and return to work, by providing travel in a safe and comfortable way. My entire team has worked incredibly hard to deploy new safety measures and to ensure our passengers have a contact-free and enjoyable commuting experience."
Buy tickets now