Last updated: Friday, 22 September
Prices from 3 September 2023
From Sunday 3 September 2023, there will be a number of revisions to our fares: our season ticket prices have been frozen for our regular customers; and we have kept the price increase of our single, return and carnet tickets under the current rate of inflation. Furthermore, to support your commute to work, we will be introducing a new, reduced-price commuter ticket from mid-September. 
Read on for more information.


Commuting by river
Weekly, monthly and annual season tickets for Central, East, West, Central & East, Central & West and All Zones have been frozen for the second time in a row. For our regular passengers, season tickets continue to offer the best value for money, offering a saving of up to 74%*. A single journey can work out as little as £1.61** a journey with the annual option. And by committing to an annual rather than buying monthly season tickets, over a 12-month period this could effectively save you the cost of more than 2 months' travel***.

4, 6, 10 and 20 Ticket Carnets have increased by an average of 4% but continue to offer flexibility and great value for money. A 10-Ticket Carnet gives you 10 tickets for the price of 8 while with a 20-Ticket Carnet you will get 20 tickets for the price of 15, that's 25% cheaper per ticket than buying single tickets.

Cross River Fare has increased slightly to £3.95 and remains a cost and time-effective way to cross the Thames between Barking Riverside and Woolwich (Royal Arsenal); Greenland (Surrey Quays) and Canary Wharf; Doubletree Docklands and Canary Wharf.

Park & Glide for Work fares are also being frozen. These tickets are perfect for those who live in or near South East London; avoid London's Congestion Charge Zone and costly central parking charges by parking securely at The O2 and gliding into town aboard the River Bus.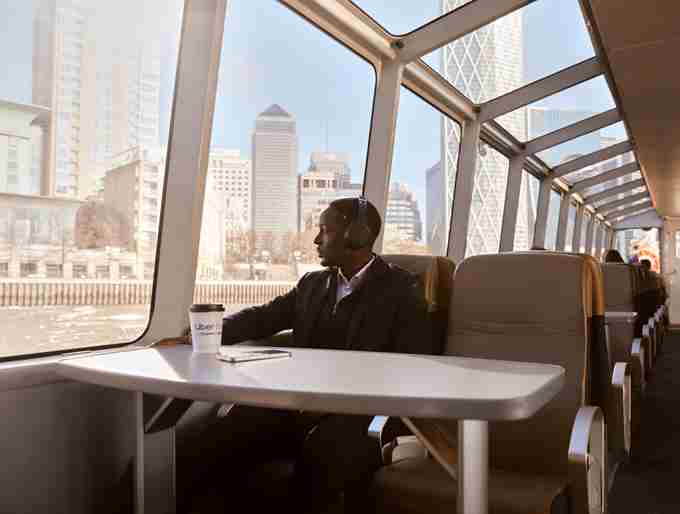 New: commuter ticket 
We are very excited to announce the trial of a new ticket that gives flexibility and provides savings to your morning commute. When buying a single "Commuter AM" ticket, available exclusively on the Thames Clippers Tickets app, you will save 25% compared to when touching in and out with your Oyster or Contactless card.
Buy the Commuter AM ticket anytime and use it to travel on our services Monday to Friday between 06:30 am and 09:30 am.
| | | |
| --- | --- | --- |
| Zones | Single | Commuter AM (25% off) |
| East | £5.40 | £4.05 |
| West | £5.40 | £4.05 |
| Central | £8.60 | £6.45 |
| Central & East | £9.80 | £7.35 |
| Central & West | £9.80 | £7.35 |
| All Zones | £16.60 | £12.45 |

Tickets will be available for purchase from 23 September from the Thames Clippers Tickets app; choose departure and arrival pier > Single > Commuter AM.
Maybe you want to try our services before committing to a 20-Ticket Carnet or perhaps you only travel every few months, either way, our Commuter AM ticket is perfect for you.


Single and return tickets
Single and return fares for the Central, East, West, Central & East, Central & West and All Zones will increase by an average of 4%. This change affects the standard fare at the pier, the Oyster/contactless/online and app fare.

Remember, when buying a single ticket, you can start/end your journey at any pier within the booked zones.


River Roamer tickets – the best option for all-day travel
Prices for All Zones River Roamer tickets have been frozen. This ticket gives users all-day unlimited travel across our 24 piers from Putney to Barking Riverside piers.

Prices for East Zone River Roamer tickets have also been frozen. This ticket allows users to travel all day within the East Zone between Canary Wharf and Barking Riverside piers.

For a family of up to five, the Family River Roamer ticket continues to offer excellent value: up to 3 children (5-15 years old) travel for free with two adults. Buy online or via the Thames Clippers Tickets app or Uber app for a 10% saving.

Children aged 4 years and under continue to travel for free as standard (limited to 2 per paying adult).

Park & Glide for Leisure fares are increasing but continue to offer great value for money. Tickets include an all-day car park pass and River Roamer tickets for 2 adults or for a family. Avoid traffic and central London parking charges.


Post-show sailings
Tickets for Post-show Express and Request sailings, running on select dates after events at The O2, are increasing by 20%. Dates are now available until the end of the year, some of the events include Peter Kay, Shania Twain, Muse, RuPaul's Drag Race, Madonna and many more. Travel back to central London by boat and enjoy the city by night.


Beat the increase!
Do you travel regularly with us? Save money by buying a 10 or 20-ticket Flexible Carnet for future travel before the price increase takes effect. Flexible carnets are great for those who want to travel regularly by river but not every day. The price per journey can be up to 25% cheaper compared to paying with contactless or Oyster card to pay as you go.
These carnets have a 90-day validity and are available on the Thames Clippers Tickets and Uber apps. Also, did you know that you can activate as many tickets from your carnet at once as you want? Ideal when travelling alone or with family and friends.
But hurry! You have until 23:59 on Saturday 02 September to purchase 10 and 20-ticket Flexible Carnets at the current price before prices increase.


*Travelling on a Central, Central & East or Central & West Zone and All Zones annual season ticket, compared with purchasing Adult Standard return tickets for 261 working days of the year. **Based on two journeys across 261 working days of the year, travelling on a West or East Zone annual season ticket. ***Purchasing an annual versus 12 monthly season tickets for any of our zones except All Zones. Savings range between 1.78-2.25 months' saving when purchasing an annual versus 12 monthly season tickets for the same Zone.

Other service changes
Preferred sailing
If you are a weekly, monthly or annual season ticket holder, join the special Preferred Sailing queue at staffed piers and be the first to secure your spot on board. Staffed piers include North Greenwich, Greenwich, Canary Wharf, Tower, London Bridge City, Bankside, Embankment, Westminster, London Eye (Waterloo) and Battersea Power Station. Preferred Sailing is available during staffed hours (generally 10am – 6pm and later in the summer) every day of the week. It's also available from Blackfriars Pier on weekdays during the evening commute (4.30pm – 6pm). Accompanying passengers who do not hold a season ticket will be asked to join the general queue. Please note that customers with disabilities may be boarded first.
Unlocking West London by river
The expansion of our services to Chelsea, Wandsworth and Putney offers weekend services to and from the West of London. Find out more about some of the things you can do in the west near our piers.