What's available
Travel comfortably. The café bar sells a selection of refreshments to make your journey even more pleasant. All vessels apart from Storm, Star and Sky Clippers have an onboard café bar.
Please note that in line with coronavirus recommendations, we are currently offering a reduced menu and are not accepting cash payments. Be also aware that until we are back to full service not all vessels will have an open café bar.
The following weekday morning RB1 sailings provide a bar service:
7:33 from Woolwich (Royal Arsenal) Pier
8:13 from Woolwich (Royal Arsenal) Pier
9:05 from Woolwich (Royal Arsenal) Pier
All other RB1 sailings bar service will start at a later time. RB6 is covered on an ad hoc basis.
Hot drinks

Our staff are trained baristas. A selection of freshly prepared hot drinks are available including coffee, tea and delicious hot chocolate.

Food

Sandwiches, cakes and confectionery are available at the café bar. Our selection changes to suit the time of day.

Beverages

We sell a range of soft drinks and alcoholic beverages. Kids can enjoy Capri Sun on the back deck and grown-ups can drink rum with Captain Morgan!

Vegan range

Vegan-friendly snacks are available. A member of bar staff will be happy to answer any questions you may have about allergies or dietary requirements.
View our menu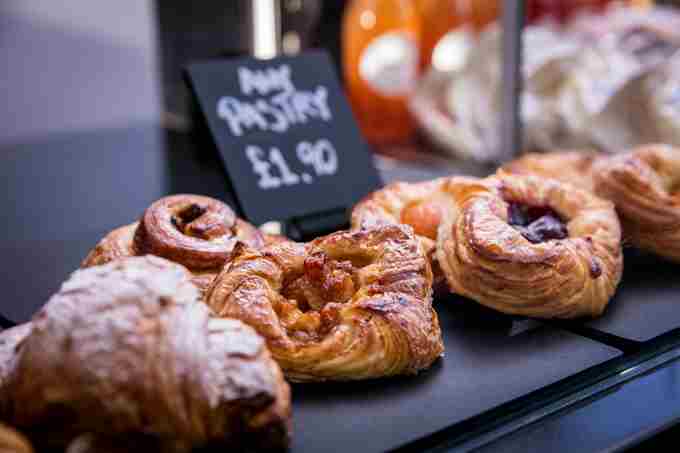 In-seat ordering
Enjoy minimal contactless Café Bar service. You can use our in-seat ordering service to make bar orders.
Whilst on board, visit thegoodtill.com/thamesclippers on your smartphone.
Select the boat you are on
Place your order
Once it's ready we'll call out your name and deliver to your seat
In-seat ordering terms and conditions

There is a £2 minimum spend and 15 minute minimum journey time to make a in-seat order.
Payments are made through the in-seat ordering webpage and are card-only. Season ticket discount is not applicable.
A reduced menu is available for in-seat ordering services.
Orders will need to be collected from the bar.
Uber Boat by Thames Clippers reserves the right to suspend, cancel or review the in-seat ordering service and terms and conditions at any time without giving prior notice.
Download our app to boost your café bar experience
Collect loyalty points
Every £1 you spend at the café bar can earn you one point.
How to set up your loyalty account:
Open the Thames Clippers Tickets app
Tap the icon on the top right corner of your screen
Select "Loyalty Account"
The barista will scan the QR code and ask for your name
On your next order just show the QR code under "Loyalty Account" and the barista will tell you how many points you have collected.
Collect 15 points to save £1 on your café bar order. Collect 25 points and you'll receive a free hot drink!
Season ticket holders save 15% at the café bar!
Show your valid weekly, monthly or annual season ticket (either on your smartphone or paper) to a member of staff at the café bar and you'll receive 15% off your order.