Founded by Sean Collins and Alan Woods, our high-speed River Bus service started on 24 May 1999.
Captained by Sean, Storm Clipper ferried passengers from Greenland (Surrey Quays) Pier to Savoy Pier (now Woods Quay). Together with Star and Sky Clippers, we carried around 80 passengers per day in our early years. 20+ years on and passenger numbers have risen significantly; we carried our 50 millionth passenger in May 2022.
Hurricane Clipper joined us in 2001 followed by Sun and Moon Clippers in 2005. Aurora, Cyclone, Meteor, Monsoon, Tornado & Typhoon Clippers, the 'Typhoon Class' vessels, entered service between 2007 and 2008. Our Hunt Class vessels (Jupiter, Mercury, Galaxy, Neptune and Venus Clippers) joined the fleet between 2015 and 2019. We now have 17 high-speed vessels and are currently building two hybrid high speed ferries.
Uber Boat by Thames Clippers operates a modern and fuel-efficient fleet of high-speed catamarans. For over 20 years the business has been at the forefront of innovation for the river marine sector and is committed to supporting the sustainable growth of infrastructure and economic development on and around the river to ensure its long-term importance to Greater London. In order to find viable sustainable options, the business continues to break new ground and invest in trials and the development of technology, including seeking and winning Department for Transport funding to drive for a greener marine future, particularly focused on the development of hybrid and hydrogen-powered vessels.
Our River Bus service currently serves 24 piers, from Putney Pier in the west to Barking Riverside Pier in the east.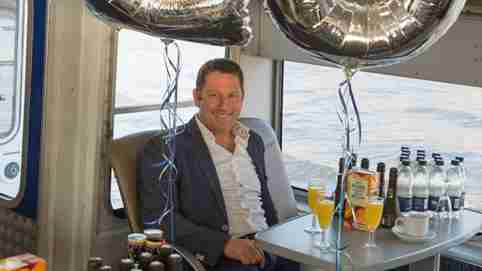 Sean Collins, our CEO and Co-Founder, celebrating our 20th birthday aboard Storm Clipper.
Our partner
In August 2020, we entered into an exciting partnership with Uber and became known as Uber Boat by Thames Clippers.
River Bus tickets are now available through the Uber app, in addition to existing payment methods, meaning Uber app users can buy tickets in advance and then use QR technology to board. This provides Londoners and visitors with even more options to commute, visit, explore and enjoy the capital by river.
Our license
We are licensed by the London River Services division of Transport for London (TfL) to operate commuter River Bus services on the Thames. Uber Boat by Thames Clippers is not owned by TfL but our services are regulated by TfL who approve our service frequencies, fares, destinations and many other aspects of our operation.
We work together to embed the River Bus service into the rest of London's transport network; TfL operate our Oyster ticketing systems, provide service information and own a number of the piers we serve.