Heading to a show at The O2?
Make travel time part of your evening out and take any service to North Greenwich Pier from one of our 20+ piers across London. You can touch in/out with a contactless or Oyster card, or buy your ticket online or on the apps.
On select event nights, sail back into town with us after the show ends! Pre-book your ticket for a guaranteed seat.
We'll have two special services from North Greenwich Pier: 
Post-Show Express
Calls at London Bridge City, London Eye (Waterloo) and Battersea Power Station only
Takes just 20 minutes to reach London Bridge, 30 minutes to London Eye and 45 minutes to Battersea Power Station
Post-Show Request
Calls at any requested piers between North Greenwich and London Eye (Waterloo), except Doubletree Docklands (disembark at Canary Wharf for RB4)
Adult tickets cost £12.00 and child and concession tickets cost £6.00. Please note that standard single/return or River Roamer tickets are not accepted for travel on these services.
Post-show services depart 15 minutes after the show finishes

You're guaranteed a seat when you book in advance

Services depart from North Greenwich Pier

North Greenwich Pier is a 5 minute walk from The O2.

Refreshments available on board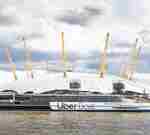 Post-Show Express and Request services will be operating from North Greenwich Pier for the following shows at The O2 on these dates:
| | |
| --- | --- |
| 1, 2 December | Pete Tong |
| 5 December | Madonna |
| 6 December | Madonna |
| 15 December | Madness |
| 17 December | Tom Jones |
Terms and conditions

The Post-show Express and Request services are only available on select event nights. It's the user's responsibility to check the calendar in our booking website and the list of dates and artists on this page before booking their ticket.
If the date of your event is not in our list it means we are not running post-show services for that specific event.
Pre-booking a ticket on the Post-show Express or Request service will guarantee you a seat.
The Express service will depart promptly 15min after showdown. Please make your way to the pier immediately and ensure that you arrive within that time.

 

This service is not recommended for spectators in blocks 400+ as the travel time to the pier will exceed 15min.
As spaces are limited, tickets are non-refundable should you miss the boat.
Sandard single/return or River Roamer tickets are not accepted for travel on this service.
The Post-show Express service will call at London Bridge City (20 minutes after departure), London Eye (Waterloo) (30 minutes after departure) and Battersea Power Station (45 minutes after departure) piers only.
The Post-show Request service will stop at any requested piers between North Greenwich and London Eye (Waterloo) piers.
Passengers with a Disabled ID/badge benefit from the concession rate and should select the Concession fare. If a complimentary carer's ticket is required, please add a ticket selecting the Carer fare.
All travel is subject to our Conditions of Carriage