| | |
| --- | --- |
| | Barking Riverside Pier, Project Road, IG11 0YP - East Zone |
Barking Riverside is a growing and vibrant new neighbourhood of over 10,000 homes directly on the river Thames. A former industrial site in East London, this newly-transformed area of the capital is perfect for those who want access to the city as well as green spaces fit for healthy living.
Access to central London is easier than ever with the newly opened Barking Riverside Pier and the start of the River Bus service.
Try a new way of travelling
Take to the Thames and turn travel time into "me" time.
With departures every 20-30 minutes and connecting 24 piers across the Thames, Uber Boat by Thames Clippers (also known as London's River Bus) provides a fast and comfortable way to get around the city.

Piers include North Greenwich for The O2, Greenwich, Canary Wharf, Tower, London Bridge City, Blackfriars and Embankment.
All our boats and piers are step-free and wheelchair accessible except for Cadogan, London Bridge City and Wandsworth Riverside Quarter piers.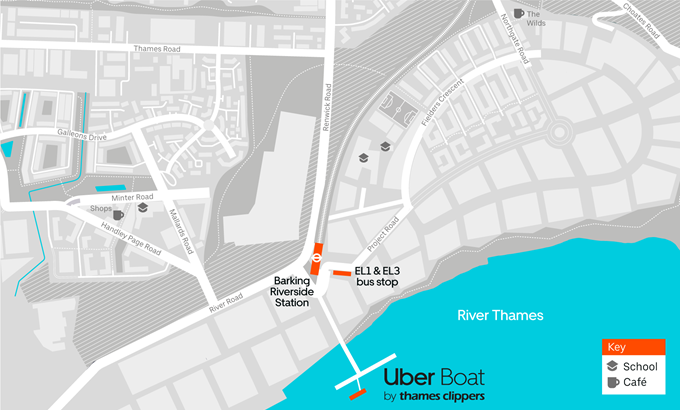 Guaranteed seat

Comfortable seats in climate-controlled cabins or enjoy the fresh air on the outside back deck.

Café bar

A whole range of refreshments are available from the onboard café bar from hot drinks to alcoholic beverages and snacks.

Bikes permitted

Bring your bike on board at no extra charge. We can currently carry up to 14 bikes on our largest vessels. Pets are also welcome.

Toilets

There are toilets with accessible facilities on board most of the fleet. Our larger boats also have baby changing tables.
Enjoy year-round savings
We have different options available to pay for river travel so you can choose the most convenient for you from paying with a contactless card to buying online, on the Thames Clippers Tickets and Uber apps or at the piers.
We also offer different types of tickets to suit your travel needs:
Single tickets for A to B journeys: for simplicity touch in and out with your contactless or Oyster card.
River Roamer tickets for all-day unlimited travel: save 10% when buying online.
With a Family River Roamer kids travel for free!
Carnet tickets offer flexibility and savings to those who need to travel regularly but not every day! You could save up to 20% off per ticket. Carnets are available on both the Thames Clippers Tickets and Uber apps. 
Season tickets offer you the best value for money, ideal for those needing to travel almost every day. This can work out as little as £1.61 per journey with our annual East season ticket. Season tickets are only available on the Thames Clippers Tickets app.
You might be surprised to hear just how favourably we compare on season ticket travel, depending on your journey:

1. TfL Travelcard Zone 4 to 2, Uber Boat by Thames Clippers River Zone: East Only
2. TfL Travelcard Zone 4 to 1, Uber Boat by Thames Clippers River Zone: Central & East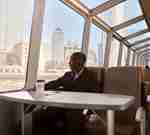 The River Bus network is divided into zones, just like the tube. Our services operate in three zones: West, Central and East and the fare will depend on which zones you travel in.
Barking Riverside is in East Zone.

For instance, if you are travelling between Barking Riverside and London Bridge City piers you will need a Central and East ticket.


Journey times from Barking Riverside
| | |
| --- | --- |
| Woolwich (Royal Arsenal) for Crossrail | 9 minutes |
| North Greenwich for The O2 | 20 minutes |
| Greenwich | 28 minutes |
| Canary Wharf | 40 minutes |
| Tower | 51 minutes |
| London Bridge City | 55 minutes |
| Blackfriars | 63 minutes |
| Embankment | 69 minutes |
River Bus service patterns
| | | | | |
| --- | --- | --- | --- | --- |
| DEPARTURES | First boat | Last morning boat | First evening boat | Last boat |
| Weekday | 06:25 | 10:50 | 17:15 | 21:35 |
| Weekend | 08:20 | n/a | n/a | 20:52 |
| | | | | |
| --- | --- | --- | --- | --- |
| ARRIVALS | First boat | Last morning boat | First evening boat | Last boat |
| Weekday | 08:46 | 10:38 | 17:07 | 00:03 |
| Weekend | 10:04 | n/a | n/a | 00:05 |
Testimonials
"This is a gamechanger for me because I work in Canary Wharf. It will cut my commute from one hour journey with 4 changes, to just 40 minutes direct! And with such scenic views! I've been telling all my colleagues that from tomorrow they'll see me arrive to work by boat."
- Belinda
"I look forward to more people discovering Barking Riverside thanks to the river bus, my friends have already said they'll come visit me using the Uber Boat by Thames Clippers service. It will be such an enjoyable and relaxing journey at the beginning and end of the day."
- Stacey
"One top favourite place in London is South Bank and the river bus will be a brilliant way to get there without the faff of changing connections. We are getting married in September so today we are using the new river bus service to go to the ExCeL centre to the National Wedding Show directly, we are so excited!"
- James and Jenny
"This is making me realise how much there is to see on the Thames. I've already invited my son and grandchildren to take a river trip with me. This is going to help improve the image of Dagenham. We'll move us on from feeling we are on the edge of the city and that we are not involved with the rest of London, we won't feel marginalised anymore."
- Mary
"This new river bus stop is going to be a huge benefit for us because we both commute Monday to Friday to Blackfriars. We'll also be able to go to our favourite Thai restaurant in Greenwich without the need to drive. The river bus will make my car redundant! Moreover, one gets a completely different perspective of London when seen from the River."
- Leo and Sally
"This is the best thing that happened to me in my life. The river bus connection shortens distances to my work place as well as to central London. The peace and quiet here is great but, as there are many young people living here, the river bus gives us the option to have a drink in central London directly. This is so convenient for someone like me who does not use a car."
- Simon
"This is going to be such a fun way for us to get into central London on a Saturday evening. It's all about showing up in style."
- Sarah