Sir Christopher Wren (1632-1723) is Britain's greatest architect. He was also a mathematician, geometer, astronomer and anatomist. Few people have had quite the impact on London's architectural landscape as Wren. 
He designed 51 churches in the City of London after the Great Fire in 1666, as well as St Paul's Cathedral. He is also responsible for designing Old Royal Naval College, Hampton Court Palace, Royal Hospital Chelsea, Temple Bar Gate, The Monument, Royal Observatory Greenwich (combining his passion for design and astronomy) and many others.
In 2023 we mark the tercentenary anniversary of the death of Sir Christopher Wren. To commemorate his genius and legacy, fascinating events will be held throughout the year across London and the UK.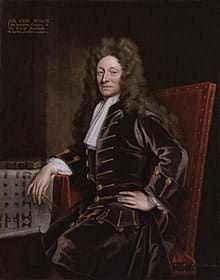 The river Thames, a link to the past
Up until the early 18th century the most convenient way to travel within the City, or to travel east or west from central London and crossing the river was by water. London Bridge was the only dry crossing over the Thames so there were regular ferry services at various points.
Things have drastically changed since then but the river continues to be an important transport artery and tourist attraction. It makes sense for Uber Boat by Thames Clippers to be a part of the celebrations with the river being a link between past and present but also a link between the different buildings designed by Sir Christopher Wren.
Wren 300 joint tickets
Save up to 30% with our Wren 300 Joint tickets! We have partnered up with St Paul's Cathedral and Old Royal Naval College to bring you an unforgettable experience: visit both attractions and travel between them by boat while enjoying the beautiful scenery along the river.
Learn more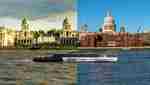 Wren by River - Sold out
On Friday 1 September, as part of The Wren London Series, a selection of talks, lectures and debates, Uber Boat by Thames Clippers will host Wren by River: a one-hour special sailing led by Colin Thom, Director of the Survey of London, and a leading expert in the architectural history of the capital. Passengers will be treated to a broad introduction to Wren's legacy to London, from the unique perspective of the river. 
Learn more