Save up to 30% with our joint ticket!
Uber Boat by Thames Clippers has partnered up with St Paul's Cathedral and Old Royal Naval College to bring you an unforgettable experience. Visit both Wren attractions and travel between them by boat while enjoying the beautiful scenery along the river.
Book a joint ticket and save up to 30%!
Book now
What does your ticket include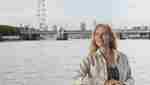 Unlimited river travel
Wren 300 tickets include a River Roamer for all-day hop on hop off across Uber Boat by Thames Clippers timetabled services (all zones). Enjoy comfortable seats, an onboard café bar, and great views of London including views of St Paul's Cathedral and Old Royal Naval College from the river!
Travelling by boat is accessible, comfortable and convenient.
We call at 24 piers across London including Cadogan and Battersea Power Station for Royal Hospital Chelsea, Westminster, London Bridge, Tower and North Greenwich, and operate every day except Christmas and Boxing Day from early morning until late in the evening.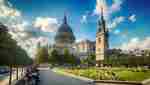 Entry to St Paul's Cathedral
There has been a Cathedral dedicated to St Paul in London since 604 AD. The current structure was officially completed in 1710 rising from the ashes of the old Cathedral destroyed in the Great Fire of London.
Sir Christopher Wren made use of old stone but with new techniques and ideas to design and build the new cathedral. He was the first to be buried in its tombs!
The Wren 300 ticket gives you access to the Cathedral Floor, the Crypt, the Dome Galleries, their multimedia guides and any temporary exhibitions and installations including their exhibition Sir Christopher Wren: The Quest for Knowledge opening 27 April. The main dome is one of the biggest in the world at over 366 feet (110 metres) high!
ⓘ St Paul's Cathedral can be visited Monday to Saturday 08:30am (10am on Wednesday) to 4:30pm. Last entry at 4pm.
Nearest pier: Blackfriars or Bankside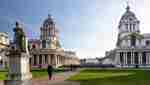 Entry to Old Royal Naval College
Old Royal Naval College, in the heart of the Maritime Greenwich UNESCO World Heritage Site, was originally constructed to serve as the Royal Hospital for Seamen.
Wren's design of the hospital was a stroke of genius: to incorporate the existing King's House into his own design, but also meet Mary II's request for a river view from the Queen's House, he created a symmetrical arrangement of courts, domes and colonnades which, together with a careful use of perspective, framed the Queen's House without dwarfing it.
The Wren 300 ticket includes entry to the breath-taking Painted Hall, which took 19 years to paint. You can join the tours across the magnificent riverside estate which include the Chapel, which is one of the finest eighteenth-century interiors and access to one of the oldest remaining Victorian Skittle Alleys (12-3pm subject to availability.)
ⓘ The Painted Hall and Chapel can be visited daily 10am-5pm. Last entry at 4.30pm.
Site Tours leave the visitor centre daily on the hour from 11am - 3pm. The Painted Hall has a free audio guide available in 7 languages or talks run every 30 minutes from 11am – 4pm. Wren Tours will run on Thurs 12.30 and 2.30pm from 9 March – 28 Sept.
The Royal Observatory Greenwich is also a short walk away.
Nearest pier: Greenwich
Visit the Square Mile Churches
Best known for the design of many London churches, including St Paul's Cathedral, Sir Christopher Wren was also a founder of the Royal Society and his scientific work was highly regarded by Sir Isaac Newton. Across 2023 Square Mile Churches will be shining a light on Wren's churches and their wealth of fascinating histories for everyone to enjoy. Through exciting musical events, conservation workshops and talks, schools' programmes around the Great Fire of London and the rebuilding of the City of London, and newly commissioned research into the lives of the people of Wren's era who rebuilt the City we invite you to join us in celebrating Wren and his inspirational legacy.
While visiting St Paul's Cathedral take the opportunity to walk around the City of London and explore some of The Square Mile Churches. They are free to visit.
Nearest piers: Blackfriars, Bankside or Tower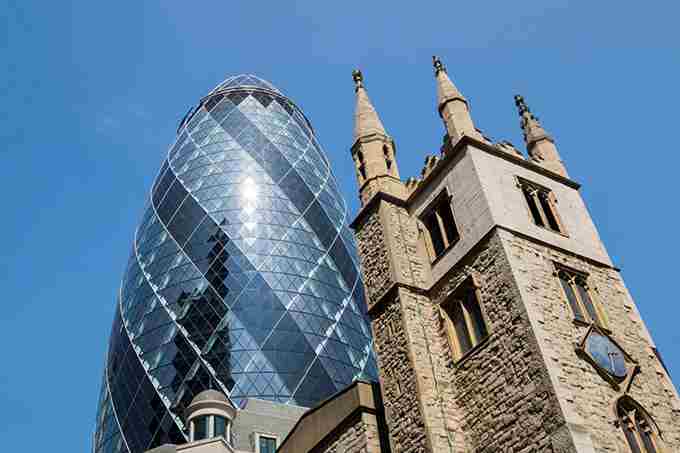 Other events
To commemorate Wren's extraordinary legacy, some of his most famous buildings and associated institutions will be hosting fascinating events and activities throughout the year.