To celebrate Sir Christopher Wren's London legacy, a series of talks, lectures and debates are taking place across the capital. The Wren London Series will start on Tuesday 4 July and will continue throughout the summer and autumn. This is a unique way to bring to life the work and legacy of Britain's most renowned architect.
Uber Boat by Thames Clippers will host Wren by River on Friday 1 September, a one-hour special sailing led by Colin Thom, Director of the Survey of London, and a leading expert in the architectural history of the capital.
The history of London is intertwined with its river. As we go on this journey together up the Thames linking past and present, passengers will be treated to a broad introduction to Wren's outstanding contribution to London's built environment from the unique perspective of the river and how his vision for the city has helped shape its modern form.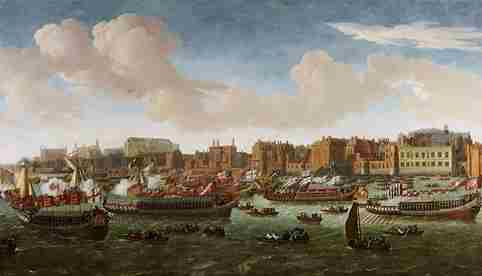 The Lord Mayor's Water-Procession on the Thames, circa 1683. Royal Collection, Public domain, via Wikimedia Commons 
Sail with Wren
Our tour is bookmarked at either end by two of Wren's principal public works: the Old Royal Naval College at Greenwich, a Baroque masterpiece designed towards the end of his career as a Royal Hospital for Seamen; and the The Royal Hospital Chelsea, another palatial riverside home for retired and injured servicemen. Both demonstrate Wren's extraordinary architectural and engineering abilities, and devotion to public duty. But Colin will also point out other buildings and sites of historical or architectural interest as we travel along.
Date: Friday 1 September 2023
Time: 19:00 - 20:00

Please be at North Greenwich Pier latest by 18:45

Embark at: North Greenwich Pier
Disembark at: Battersea Power Station Pier

Adult: £15.50
Concession*: £11.30

* Children 5 to 15, people with disabilities, Freedom Pass, 60+ Oyster card or UK regional senior bus pass holders can benefit from the concession rate

Café bar
A whole range of refreshments are available from the onboard café bar.
Other Wren sights to see en route include: the Royal Observatory at Greenwich, designed and built by Wren in the 1670s with assistance from Sir Robert Hooke (both men were astronomers); and The Monument, again designed by Wren and Hooke, in this case to commemorate the Great Fire of London of 1666, an event which marked a significant turning point in Wren's career as an architect.
Passing through the City will allow us to consider Wren's crowning achievement: the rebuilding of St Paul's Cathedral with its towering dome – the first to be seen in London – and the rebuilding of more than 50 of the City's parish churches within the constraints of its persisting medieval street plan. Wren's radical, visionary plan to reconstruct the entire city along continental Baroque lines was not taken up, for practical reasons, but as we travel through the City and Westminster there will be an opportunity to discuss how the growing myth of this 'missed opportunity' influenced London's metropolitan improvers of Victorian times and the town-planners of the post-war era.
Meet Colin Thom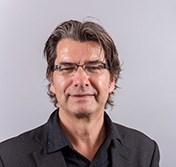 Colin Thom is an architectural historian, and Director of the Survey of London, the leading authority on the architectural history and topographical development of our capital city. The Survey is part of UCL's Bartlett School of Architecture, where Colin also teaches architectural history and theory.
He worked in the photo and film archive of London Transport Museum before joining the Survey, where he has contributed to and edited Survey volumes for the past 30 years. His other published work includes Researching London's Houses: an archives guide (Historical Publications, 2005) and Robert Adam and his Brothers: New light on Britain's leading architectural family (Historic England/LUP, 2019). Colin sits on the casework committee of the Georgian Group and also on Westminster City Council's Green Plaques Advisory Panel.
He is a regular lecturer and guide, and has spoken on various aspects of British architectural history at conferences in Split, Paris, Rome and Washington, and has provided tours of historic buildings for various bodies and individuals, including the Victorian Society, the Historic Houses Association, and the King & Queen of Sweden. 
Other events
To commemorate Wren's extraordinary legacy, some of his most famous buildings and associated institutions will be hosting fascinating events and activities throughout the year.