Launched in 2019, the Illuminated River project transformed the capital at night, bathing the bridges that cross the Thames in environmentally-friendly LED light.
In 2021, the project has expanded tremendously. Now Blackfriars, Waterloo, Golden Jubilee, Westminster and Lambeth bridges have joined London, Cannon Street, Southwark and Millennium bridges, which were the initial bridges to undergo vivid night-time transformations.
Back in 2019, our sell-out tours took passengers on a guided cruise beneath the first four bridges to be bathed in light. Two years later, we're delighted to be launching an expanded tour of the nine bridges which form the world's longest piece of public art; showcasing the spectacle from the river itself!
Join us for an Illuminated River Official Boat Tour, departing Tower Pier at 21:30. You'll hear from City of London and Westminster Guides as you glide beneath the newly-reborn architectural, social and historical landmarks that have shaped the capital's history.
Our tours take place on either Thursdays or Saturdays until 26 May 2022. We'll then take a break for the summer.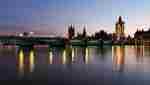 Westminster Bridge and the Palace of Westminster © James Newton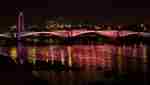 Lambeth Bridge © Paul Crawley
Blackfriars Bridge and the City of London © James Newton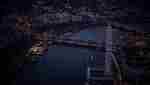 Golden Jubilee Bridges © Jason Hawkes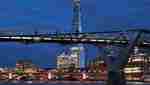 Millennium Bridge, Southwark Bridge and The Shard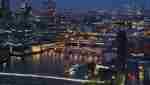 Millennium, Southwark, Cannon Street and London bridges from One Blackfriars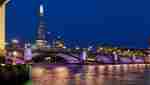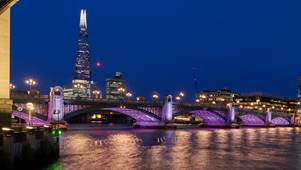 Southwark Bridge and The Shard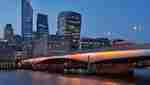 London Bridge and the City of London
On board commentary

Official City of London Guides and City of Westminster Guides will provide information about each bridge's history

Refreshments available on board

The onboard café bar sells a selection of refreshments to make your journey even more pleasant

Tours depart at 21:30

Please arrive 15 minutes prior to departure. The tour lasts around 40 minutes, returning to Tower Pier at 22:10.

Note: Thursday tours will depart at 21:35 and return to Tower Pier at 22:15

Tours start and end at Tower Pier

Tower Pier is accessible and the tours will depart from Boarding Point D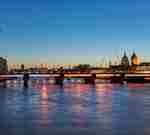 About the project
Internationally-acclaimed artist Leo Villareal and British architectural practice Lifschutz Davidson Sandilands have used the latest LED technology to 'paint the bridges with light'. Patterns subtly unfold across the bridge structures, delicately drawing attention to their unique features whilst paying attention to each bridge's heritage, wildlife and surroundings. The project is sustainable and energy efficient, creating a lasting transformation that celebrates the bridges' roles in the enduring global identity of London, and encourages people to enjoy the river and riverside at night.
About our tours
Illuminated River Official Boat Tours are circular trips, starting and ending at Tower Pier, and sailing beneath all the bridges which have been lit as part of the project featuring commentary by Official City of London or City of Westminster Guides.


The Illuminated River Foundation commissioned students from Guildhall School of Music & Drama to produce special musical scores inspired by the unique heritage and architecture of each Illuminated River bridge. From sweeping orchestral scores to minimalist electronic pieces, the inspiring compositions will accompany all tours.
Prices
| | |
| --- | --- |
| Adult | £12.90 |
| Child (5-15) and concession | £8.90 |
Child fare is applicable to children aged 5-15. Children aged 4 and under travel free but you will still need to book them a ticket. 
Concession fare is applicable to passengers with a Freedom Pass or with a Disabled ID/badge. If you have a Disabled ID/badge and travel with a carer, you can add a free carer ticket when booking.
Terms and conditions

Tickets must be pre-purchased on Uber Boat by Thames Clippers booking website, they will not be available at piers.
Children 4 and under travel for free but a ticket still needs to be booked.
Passengers with a Disable ID/badge or Freedom Pass benefit from the concession rate. If a complimentary carer's ticket is required, please add a ticket selecting the carer fare.
Passengers must present their Freedom Pass or disable ID/badge when boarding if the concession rate was selected.
It is the passenger's responsibility to be at the departure pier 15 minutes before departure as there will be no refund or exchange if the boat is missed.
Tickets are valid for the Illuminated River Official Boat Tour for the date selected when booking.
Tickets cannot be used to board a different Illuminated River Official Boat Tour on a different date.
Tickets are not valid on Uber Boat by Thames Clippers regular services.
All travel is subject to our Conditions of Carriage