Christmas at Battersea Power Station
Power up your Christmas spirit at Battersea Power Station! If you're looking for a festive destination that has it all, look no further. This renowned landmark is the perfect place to enjoy the magic of Christmas, with a range of activities, events, and attractions.
Nearest pier: Battersea Power Station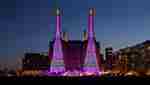 'Bigger Christmas Trees' by David Hockney
World-renowned artist David Hockney has unveiled his latest work Bigger Christmas Trees, designed on an iPad Pro using Apple Pencil. The 10-minute animation will light up the two chimneys on the north façade of the Battersea Power Station, home to a new Apple Store and their UK headquarters.
"Battersea Power Station is such a beautiful building, I wanted to decorate it in a way that I hoped would bring joy and hope to Londoners" said Hockney.
'Bigger Christmas Trees' will run every night from 5pm to 10:30pm until 25 December 2023.
What a sight arriving by boat and seeing the iconic building with two gigantic Christmas trees overlooking the River Thames.
Find out more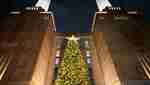 Christmas shopping and more
Some of the highlights on offer at Battersea Power Station this Christmas include:
Wintery Workshops with a festive feel: learn a new skill or craft at one of the festive workshops. From candle making and calligraphy to bauble painting and biscuit decorating. The workshops run up until 22 December.
Enjoy the Christmas Markets, where you can find hundreds of unique and handmade gifts from local makers. There's a diverse selection to cater to every taste on your list.
Where to Eat and Drink? Treat yourself to some delicious food and drink at one of the many eateries at Battersea Power Station. Don't miss the festive menus and offers from some of the restaurants, such as Cinnamon Kitchen, Fiume, and Wright Brothers.
Find out more
Grab your skates and take to the ice
Whether you're planning a picture-perfect date night, eager to show-off your skills with fellow skating enthusiasts, or enjoying a fun family outing, here are the best ice rinks in London!
Coalescence
See the light this winter with Coalescence, a stunning art installation by designer Paul Cocksedge, at the Old Royal Naval College in Greenwich. Coalescence is made from over 2,500 pieces of coal, cleverly representing the amount of energy consumed by a single 200W light bulb in a year. Suspended against the backdrop of the magnificent Painted Hall, this thought-provoking piece contrasts between the dark fossil fuel and the bright baroque ceiling. The coal pieces reflect and refract the light, creating an impressive effect that invites you to question our dependence on fossil fuels.
Coalescence is on display from 9 December 2023 to 4 February 2024, and tickets are £15.
Your ticket also includes access to Skittle Alley, all the tours of the Old Royal Naval College, and the multimedia guides. 
Make your visit even more special and book a Social Media ticket, which includes reduced capacity and allows selfies with the installation. You can also book a Quiet Hour ticket, which is designed for visitors with sensory needs.
Nearest pier: Greenwich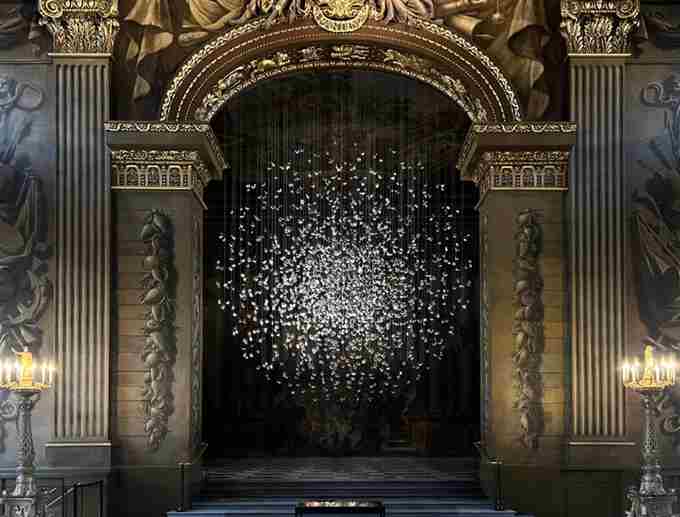 Get ready to jingle and mingle at London's winter markets!
Indulge in festive cheer as you wander through enchanting stalls and sip on seasonal delights, all against the backdrop of the city's glistening festive lights!
Onboard treats
All aboard... the season for festive treats is here! 
Make the most of London in winter and travel across the capital by boat. Visit our café bar and treat yourself whilst on board.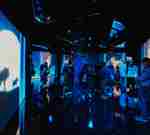 Explore the magical world of Disney through the largest exhibition the Walt Disney Archives has ever created. Now on display until 21 January, this massive exhibition at London's ExCeL celebrates a century of history and enchantment through ten captivating galleries filled with treasures, original costumes, and immersive installations.
The Walt Disney Company's 100th anniversary exhibition invites Disney fans of all ages to embark on an extraordinary journey through a century of wonder.
Nearest Pier: Royal Wharf (then bus 241) or North Greenwich (and fly across on the IFS Cloud Cable Car)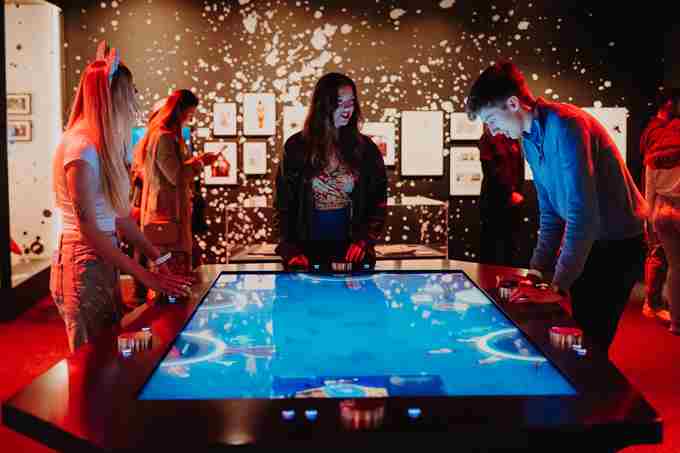 Celebrate Christmas like a Tudor on The Golden Hinde!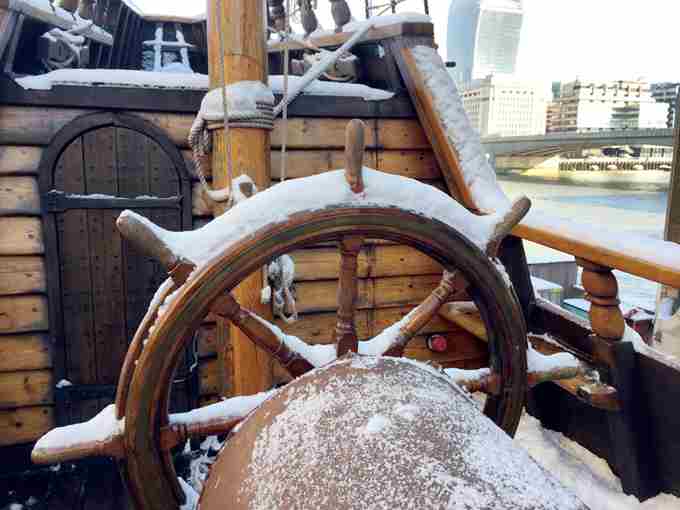 Did you know that many of our modern Christmas traditions started in the 16th century? Head aboard The Golden Hinde this December and discover how the Elizabethans celebrated the festive season. Follow the Tudor Christmas trail and learn about the customs, food, games, and music of the time. You might even spot some familiar faces from the court of Queen Elizabeth I.
The Tudor Christmas trail is perfect for all ages and is included in the admission price. The ship is open every day except 25 and 26 December.
Don't miss this chance to experience a historic and fun-filled Christmas on The Golden Hinde.
Nearest pier: London Bridge City


Fly Away with Peter Pan the Panto!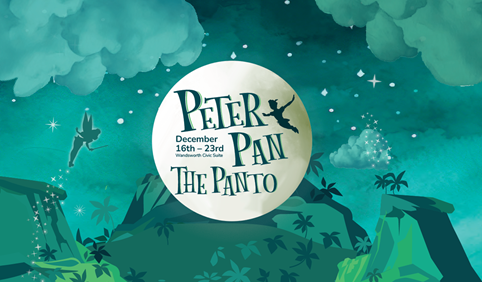 Are you ready for a magical adventure this Christmas? Then join Peter Pan and his friends as they take you on a journey to Neverland, where pirates, fairies, and treasure await. Peter Pan the Panto is a fun-filled show for the whole family, with laughter, music, and surprises. You'll meet Tinkerbell, Captain Hook, and the Jolly Roger crew, and help Peter Pan find the hidden treasure. But watch out for the crocodile!
Peter Pan the Panto is showing at the Wandsworth Civic Suite throughout December with an amazing three shows a day. You can choose from regular or sensory-sensitive performances and add a Christmas Treasure Bag to your ticket for some extra goodies. Tickets are only £10 and can be booked online or at the box office. All proceeds go to support Enable's charitable mission of enriching lives through health, leisure, and community services.
Don't miss this chance to experience the magic of Peter Pan the Panto, where you'll never grow old!
Nearest Pier: Putney
Greenwich Peninsula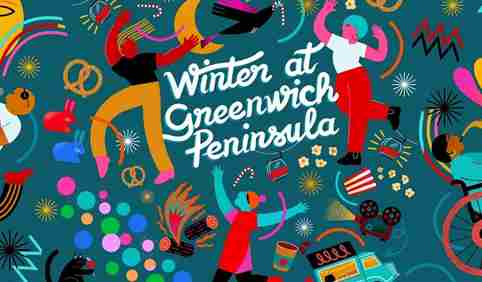 Are you looking for a festive and fun way to celebrate the winter season? Look no further than Greenwich Peninsula, where you'll find a dazzling display of lights and activities for the whole family.
Until 26 January, you can explore the stunning illuminated trail of lights, featuring a 10m high traditional tree, a magical draped canopy, and digital artwork by Lucy Hardcastle.
Greenwich Peninsula is the perfect place to make some unforgettable festive memories. Book your tickets online and join in the fun this winter. Don't forget to treat yourself to some delicious food and drinks at the Bureau Restaurant, where you can warm up with a glass of bubbles or a hot chocolate.
Nearest Pier: North Greenwich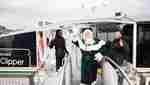 Green Santa is coming on board
We've invited Santa Claus aboard one of our hybrid vessels to join an eco-friendly Christmas cruise. Dressed in his traditional green suit, Santa will be handing out sustainable gifts and posing for pictures with kids travelling on Sunday 17 December.
Hop on board and meet green Santa whilst enjoying London's iconic landmarks along the river.
Ho ho hop on board
Woolwich Works Wonders
Looking for some festive fun this Christmas? Head to Woolwich Works and enjoy a range of events and activities for all ages and tastes. Watch a comedy, family theatre, music shows and more!
 Experience the magic of The Showstoppers, creators of Showstopper! The Improvised Musical and winners of the Olivier Award for Best Entertainment and Family Show, as they return to Woolwich Works this festive season.
If your children could create their dream musical, where would they start? The Showstoppers' Christmas Kids Show takes kids' ideas and transforms them into marvellous, musical adventures right before their eyes. Together, on 9 and 10 December they'll explore magical kingdoms, decide where the story is set, what happens next, and who the characters are.
Nearest pier: Woolwich (Royal Arsenal)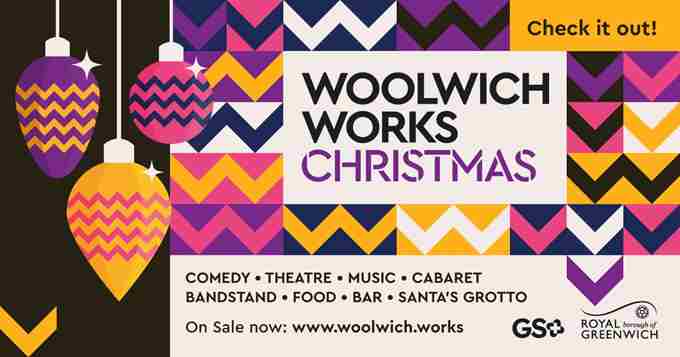 Experience Queermas with 100+ Queer Artists and Businesses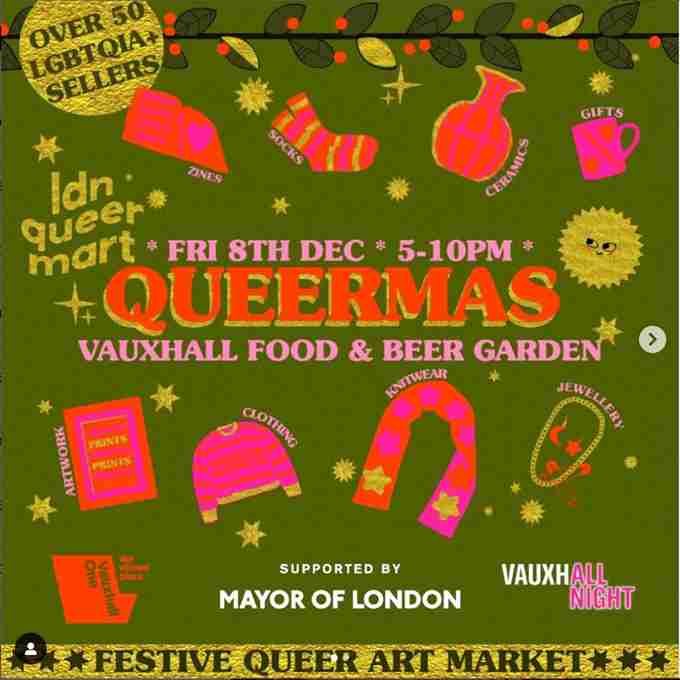 Are you ready for the most fabulous festive event of the year? Join the Queermas 2023 Event, where you can shop, mingle, and support over 100 queer artists and businesses. Whether you're looking for art, jewellery, clothing, zines, or anything in between, you'll find it at the Queermas market. Revel in the amazing atmosphere of the Vauxhall Food and Beer Garden, with delicious food, drinks, and wonderful entertainment.
Queermas 2023 is happening on Friday, 8 December, from 5pm to 10pm at the Vauxhall Food and Beer Garden, SW8 1SP.
It's free to enter and open to everyone. Don't miss this chance to celebrate the diversity and creativity of the queer community in London.
Nearest pier: Vauxhall (St George Wharf)