Please bear in mind that all events listed are subject to change, check whether they are going ahead and book in advance where possible. Remember, you must wear a face-covering aboard our services, and measures are still in place for the safety of our staff and fellow customers.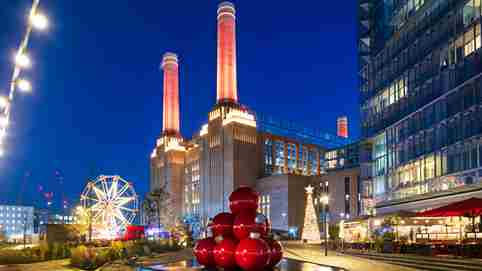 Battersea Power Station is ready for Santa Claus to slide down the iconic chimneys!
From Thursday 2 December until Monday 3 January (excluding Christmas and New Year's Day), Circus West Village becomes The Winter Village! Featuring a vintage Ferris Wheel and a Toy Town Carousel, expect the air to be filled with the scents of mulled wine, hot chocolate, sweet treats and festive fun!
Festive markets are taking place throughout the seasonal celebrations, Moyses Stevens will be providing Christmas Centrepiece Flower Classes, and Cinema in the Arches is screening classic Christmas movies in the run-up to the big day.
Nearest pier: Battersea Power Station
Southbank Centre Winter Festival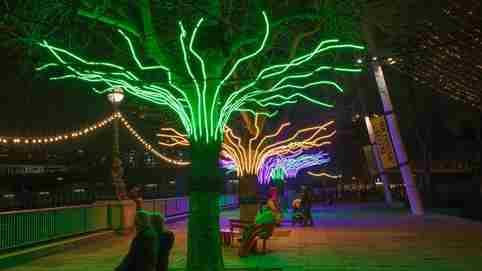 Sail to the South Bank and explore the alpine-inspired Winter Market! Street food, drinks and seasonal treats are taking place on the capital's most iconic promenade from 11:00 - 23:00 until Friday 24 December. 
As well as the Winter Market, the Southbank Centre glows with unique light displays by acclaimed artists, including David Ogle's electric neon canopy 'Loomin'. The festive spirit continues indoors too where Carols by Candlelight, classical performances and a circus are taking place as part of the Winter Festival. 
Nearest pier: London Eye (Waterloo)
Nine Elms Advent Calendar Trail
Now in its third consecutive year, the theme for this year's Nine Elms Art Trail is 'Peace On Earth' and there are 24 window installations highlighting this message across Nine Elms and Battersea in unique and creative ways. From a vintage collage, to a peace wall on a floating barge and a living forest in the heart of New Covent Garden market; the 2021 Advent Calendar in Nine Elms is set to be a magical countdown to Christmas!
There are two walking routes to discover the windows that make up the advent calendar and one window, artist and venue will be put in the spotlight each day via the Nine Elms Arts Ministry's social media channels.
Nearest pier: Battersea Power Station or Vauxhall (St George Wharf)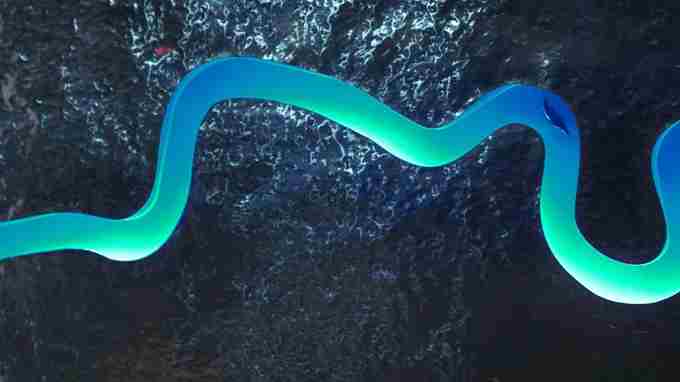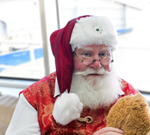 After illuminating the skies above Greenwich's Old Royal Naval College, and Woolwich Barracks in summer, Dan Archer's Borealis erupts into the skies above the City over Christmas.
A light installation event inspired by the Northern Lights, Borealis will be taking place in Guildhall Yard Saturday 11 – Wednesday 22 December as part of the Winter Lights season of the Let's Do London Campaign from the Mayor of London.
Pre-booking has sold out but walk-up spaces are available each evening.
Nearest pier: Blackfriars or Bankside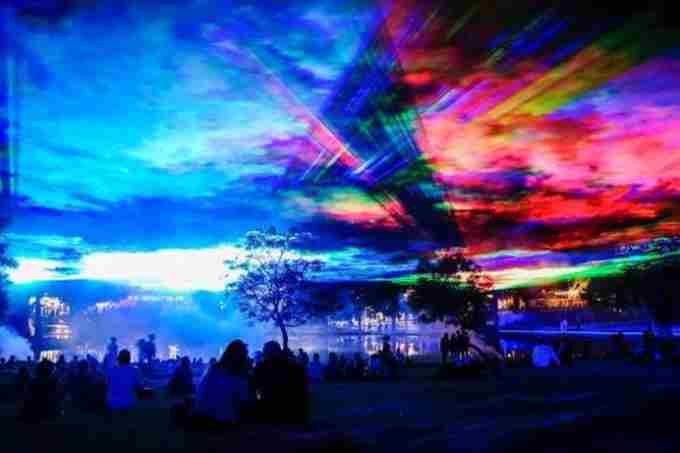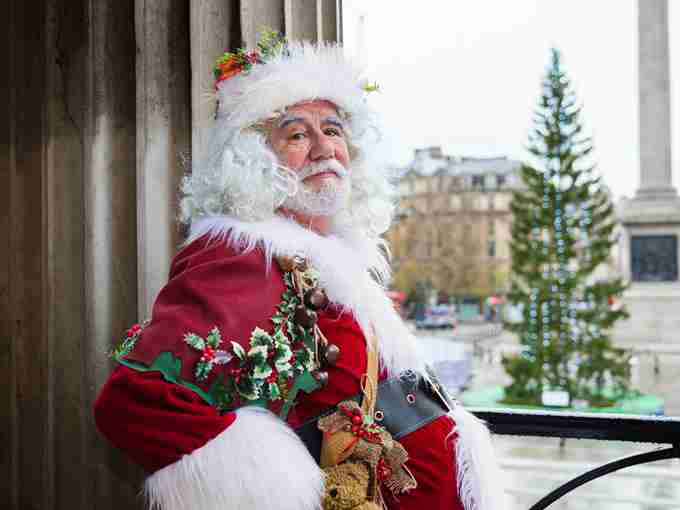 Santa has set up his grotto overlooking Trafalgar Square!
Explore a winter wonderland behind the gallery's iconic portico entrance and visit Father Christmas in his London home at The National Gallery. The Christmas clock is ticking and there is much to do, help Santa's elves and earn your honorary Elf Badge by making magical snowflakes, to be displayed on the gallery's shimmering ice wall and bathed in the glow of the Northern Lights.
After you visit Father Christmas, you can design your very own festive card to be in with a chance to win £100 to spend in The National Gallery Shop!
Nearest pier: Embankment
Take the Thames to fantastic festive theatre
Sail with us to the Christmas plays taking place along our route:
The Fir Tree at Shakespeare's Globe
A festive reimagining of Hans Christian Andersen's The Fir Tree is taking place at Shakespeare's Globe from 20 December. The Fir Tree tells the story of a little Fir Tree surrounded by neighbouring oaks and cedars, and kept company by friendly woodland creatures. The fir tree enjoys a peaceful life but is curious about what life lies beyond the forest.
Audiences are invited to take part in carol-singing and tree-decorating while enjoying a hot chocolate or mulled wine under the wintry star-lit sky of the Globe Theatre. The play's puppets, costumes and set have been created from waste cardboard and an accompanying how-to video encourages the audience to reuse their own boxes to create puppets and Christmas decorations.
Nearest pier: Bankside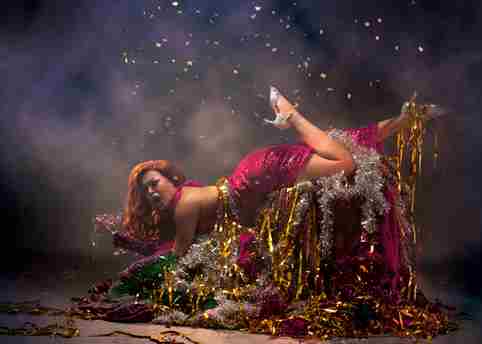 If you're looking for the most glamorous way to celebrate this year's festive season, look no further! Step into the sparkling world of The Grotteaux this Christmas.
Join London's famed immersive-party makers Shotgun Carousel as they take to the stage at Woolwich Works this winter, with a show full of cabaret chaos, jaw-dropping drag, burlesque bombshells and breathtaking circus spectacles, The Grotteaux is not to be missed.
Nearest pier: Woolwich (Royal Arsenal)

Please note this event has been cancelled due to unforeseen circumstances.
A Christmas Carol in the Painted Hall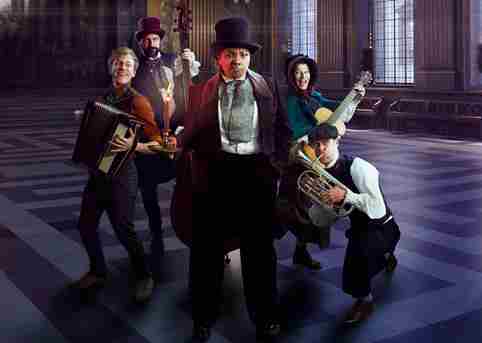 It's midnight on Christmas Eve and an old friend has come to visit Ebenezer Scrooge... Charles Dickens's famous festive tale is brought to life in the Painted Hall at the Old Royal Naval College, Greenwich. This vibrant new adaptation is great fun for all the family with original songs and music performed live by a cast of talented actor-musicians. Can Scrooge mend his ways before it's too late?
Nearest pier: Greenwich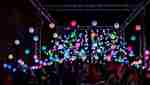 Winter on the Peninsula
There's festive cheer a-plenty at Greenwich Peninsula this month. Over 500 suspended orbs, create an unusual display of festive lights that interact with sounds for Squidsoup's 'Wave' which crashes onto the peninsula throughout December.
Head to the Design District to see an array of classic cult Christmas films including Love Actually, Frozen and Fantastic Mr. Fox. The Design District's distinctive canteen will also host festive feastings from around the world and wreath-making sessions.
FLOW festive farmers markets are taking place every weekend from 4 – 19 December.
Find out more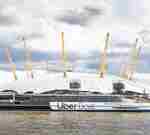 In the mid-1700s, Europe entered a period of peace, stability and economic prosperity that created new opportunities. Artists became less reliant on money from the church, state and aristocracy giving them greater freedom to comment, choose their subject matter and address audiences directly.
William Hogarth became famous for paintings and prints that captured the new modern experience with wit in the UK, but he was not alone. Across Europe, artists were creating vivid images of contemporary life and social commentary.
For the first time, Tate Britain's latest exhibition brings together Hogarth's greatest works with those of his peers across the continent – including Pietro Longhi in Venice, Chardin in Paris and Cornelis Troost in Amsterdam, examining parallels and sympathies that crossed borders.
Nearest pier: Millbank
The Museum of London Docklands' major new exhibition 'London: Port City' is now open!
Curated by the museum, and the Port of London Authority, the exhibition is free to visit and traces more than 200 years of history, examining the port's essential role in London's enduring success and survival. Specifically, the exhibition will focus on the port's complex operations from the docklands' peak, in the final days of the 18th century, to the port's move downstream and the creation of the London Gateway 'mega port'.
Nearest pier: Canary Wharf