To mark King Charles III's Coronation, join London's River Bus service to enjoy a right royal journey through the capital, taking in the sights and hopping off to explore iconic landmarks with historic ties to the royal family.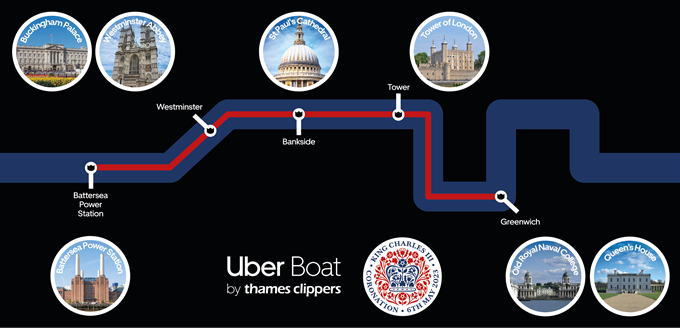 The River Bus frequents the most regal of London's hotspots. Disembark at Westminster Pier to see the majestic Westminster Abbey, where the coronation will take place and where former kings and queens of England are buried, before strolling up the Mall to Buckingham Palace.
After disembarking at Bankside Pier, traverse the Millennium Bridge and marvel at Sir Christopher Wren's masterpiece, St Paul's Cathedral. It was here that Queen Elizabeth II held her Jubilee anniversary events, where the then-Prince Charles married Lady Diana Spencer in 1981, and where the first rendition of God Save The King was sung following the passing of Queen Elizabeth II. Alternatively, play 'I Spy' with London's iconic landmarks from the comfort of your seat on an Uber Boat by Thames Clippers vessel.
Sailing further east, visit the Tower of London via Tower Pier, home to the Crown Jewels since 1661. Whilst the Imperial State Crown and Queen Mary's Crown are currently being prepared for the coronation service, there are still plenty of other priceless objects to admire. Other highlights can be enjoyed in the Royal Borough of Greenwich. Alight at Greenwich Pier for panoramic views overlooking the Thames at Queen's House, a former royal residence, and learn about London's fascinating maritime history at National Maritime Museum and the historic Cutty Sark, also part of the Royal Museums Greenwich family. Admire the magnificent architecture of this UNESCO World Heritage Site, including Old Royal Naval College – the former training establishment for seamen from 1873 to 1997. The College is on the original site of Greenwich Palace, where Henry VIII and the other Tudor monarchs were born.
Battersea Power Station will be celebrating the King's Coronation in distinctly British style. Get off at Battersea Power Station Pier for a troupe of family-friendly activities and live entertainment, set against a backdrop of red, white and blue.
On this ultimate family day out, parents will not have to pay a princely sum, as kids go free with a Family River Roamer ticket (£42.40 when bought online). This allows families to hop-on and hop-off Uber Boat by Thames Clippers boats all day long.
Uber Boat by Thames Clippers offers a comfortable way to travel through London, with easy ramp access for buggies, an indoor seating area and outdoor back decks for panoramic views of London. Regular Uber Boat by Thames Clippers services operate across 24 piers throughout the capital. From Putney in the west to Barking Riverside in the east and several major central London piers in between, take to the Thames with  Uber Boat by Thames Clippers for one of the best ways to see London this May.