Marking a major Eastern expansion of River Bus services on the Thames, the first passenger boat to dock in Barking Riverside this century arrived this week – as scheduled services by Uber Boat by Thames Clippers have now commenced.
Historically an underserved section of the river for passengers, the brand-new Barking Riverside Pier is now the most eastern stop on Uber Boat by Thames Clippers' RB1 route, a significant transport landmark as the capital increasingly expands eastwards.
Helping more East Londoners access the river, the new service will provide transformative new, direct travel times between central London and Barking Riverside, one of London's largest new neighbourhoods. The service will run at peak hours Monday to Friday, and all-day during weekends, with a 20 to 30-minute frequency.
As well as connecting residents to the city's thriving leisure and culture scene, the River Bus service will also create important new links to thousands of jobs across the capital – significantly enhancing employment opportunities for local people.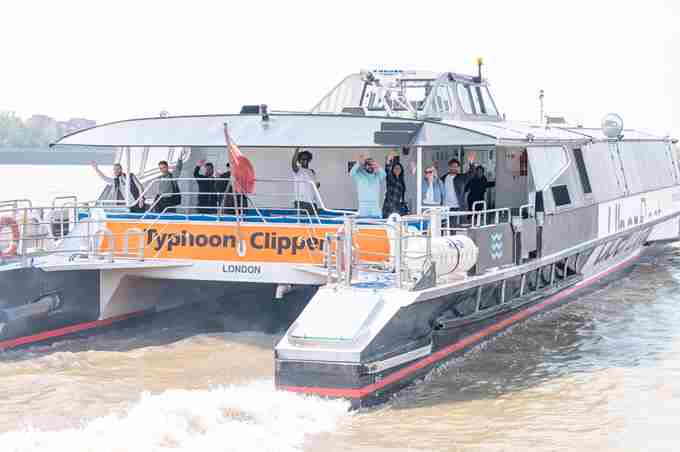 Additionally, the service will create a much-needed link between the north and south of the river, with journeys to Woolwich taking less than 10 minutes. Promoting capital-wide connectivity, this will bridge a critical gap between Barking and Dagenham and new Crossrail services from Woolwich Station.
Brought forward by Uber Boat by Thames Clippers and Barking Riverside Limited, a partnership between L&Q and the Mayor of London, the service has initially launched this week ahead of schedule, with further works to the pier and the landside approach occurring over the next few weeks to complete the landscaping and finishing touches. This initial launch of the service has been specifically timed to support the Uber Boat by Thames Clippers' summer timetable, with a formal launch event due to occur in the coming weeks once works are finalised.
Welcomed to the pier by the Uber Boat by Thames Clippers and Barking Riverside Limited teams, residents of the growing new neighbourhood were the first people to set foot on the important new pier, which was designed by Beckett Rankine and Anthony Carlile Architects.
Barking Riverside is one of London's most prominent new neighbourhoods, that will create over 10,000 homes, as well as commercial and leisure facilities. A new London Overground rail station will also be opening later in 2022, making this new neighbourhood even more accessible.
Vicky Savage, Group Director of Development and Sales at L&Q said, "Barking Riverside is more than just a development – it's a long-term placemaking project on a scale rarely seen in the UK, which is breathing new life into a formerly industrial part of East London. At its heart is a mission to build quality new and affordable homes, in a beautiful neighbourhood which offers people an opportunity to live a better life."

"The arrival of the River Bus Service is quite simply a game-changer, activating a stretch of the river not utilised for many years, connecting Barking to Woolwich – and beyond. We're delighted to have reached this landmark milestone with our partners and look forward to opening the new Overground Station later this year."
Matthew Carpen, Managing Director of Barking Riverside Limited, comments "This is a really important milestone, not just for the Barking Riverside development and its residents, but for London as a whole, as the city continues to move eastwards. This service will help commuters and families take advantage of much quicker connections into central London as well as introducing Barking Riverside, known for its wildlife and vibrant community, to the rest of London."

Uber Boat by Thames Clippers CEO and co-founder, Sean Collins, adds "We're incredibly excited to be able to service Barking Riverside Pier ahead of schedule. This pier, the 24th in our network, marks a significant milestone in the eastward development of our River Bus service and comes at an exciting time for our business as we make strides towards a sustainable future."
Plan your journey from Barking Riverside