Last updated: Monday 07 June 2021
Uber Boat by Thames Clippers is committed to the health and safety of our staff and passengers. We have implemented social distancing measures at all piers and on board our vessels.
Please note: you must wear a face-covering aboard our services and no more than six people or two households may travel together. You can read the government's latest travel guidance here.
We have been awarded Good to Go status by VisitEngland, the AA has accredited us as COVID-19 Confident, and The World Travel & Tourism Council have granted us the SafeTravels stamp. These accolades demonstrate that we have followed government and industry COVID-19 guidelines, ensuring processes are in place to maintain cleanliness and aid social distancing to both a UK and global standard.
Please follow these guidelines to travel safely: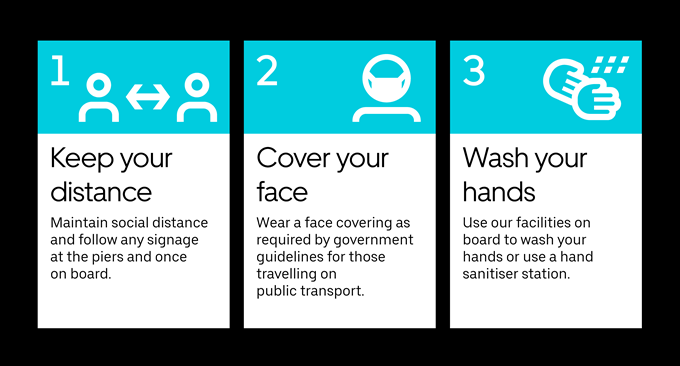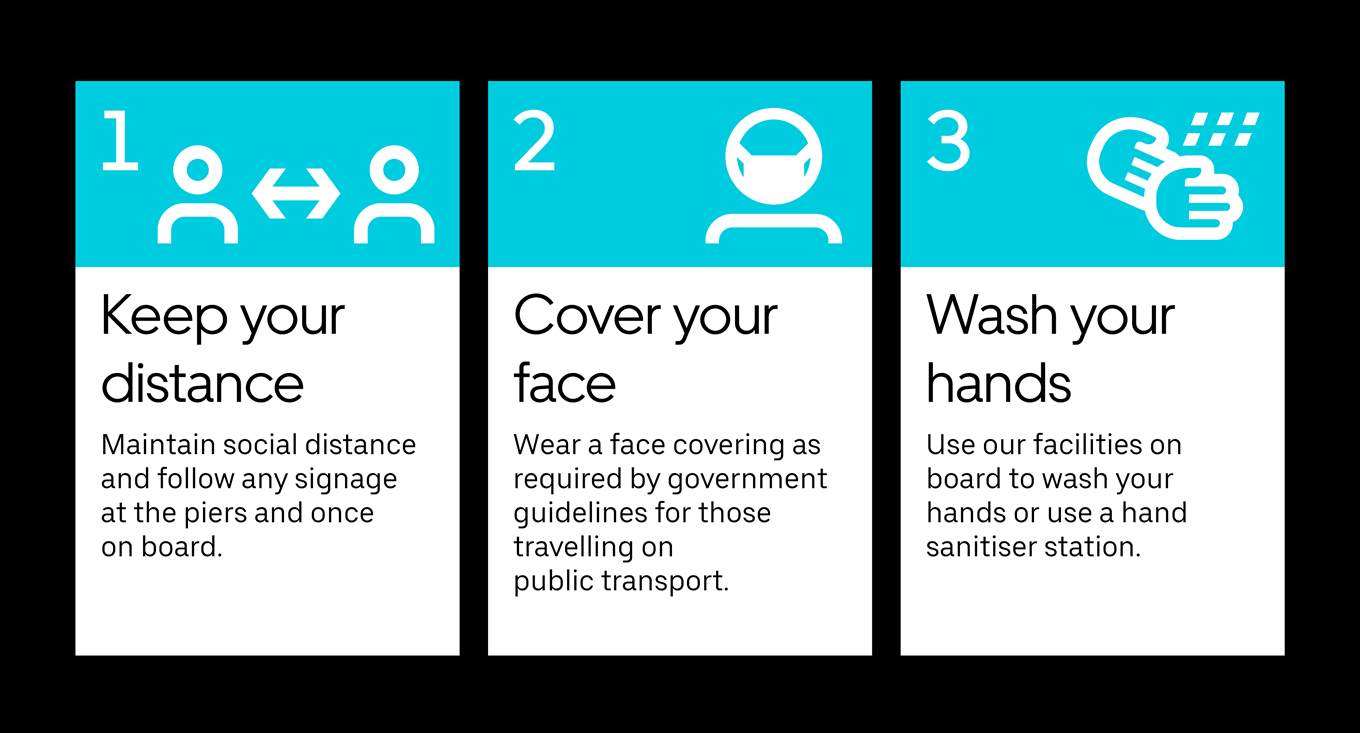 Safety measures at our piers
Face coverings are mandatory on all public transport and must be worn on all piers and vessels unless exempt.

We are implementing social distancing at our piers. Signage and where possible, floor markings guide passengers on how to queue, board and disembark safely.
Uber Boat by Thames Clippers will only accept cashless payments for the foreseeable future
Tickets for travel should be pre-purchased as usual via our tickets app (including season tickets and carnets) or online at booking.thamesclippers.com. You are still able to travel by touching in/out using Contactless or Oyster to pay as you go or by using the ticket machines or the ticket office at staffed piers.
Regular cleaning takes place throughout the day at Uber Boat by Thames Clippers' ticket offices using disinfectant spray.
Safety measures on board our vessels
Passengers are able to board our vessel with our usual "touch-free" experience.
Vessel capacities have been reduced to accommodate social distancing. We can carry up to 14 bikes per sailing, subject to the vessel type.
Passengers must respect social distancing on board and leave space between individuals.
Please continue to adhere to the 'rule of six' or maximum of two households travelling together.

Dispensers for the Unilever brand Lifebuoy, the world's number one hygiene soap brand and our new Official Hand Sanitising Partner, are available on board every vessel. Onboard facilities enable passengers to wash their hands, with NHS posters displaying the correct hand-washing procedure.

Safe procedures are in place to allow fresh air to pass through the cabin whilst the boat is underway.
Alternatively, passengers still have the option to sit on the outside back deck, but please note you must still wear a face covering.
Touch points and surfaces on board are regularly wiped down with cleaning wipes during service, and every vessel is deep-cleaned overnight.
In addition to the daily touchpoint cleaning, the vessels are disinfected using an electrostatic spray during out of service periods during the day (when no passengers or crew are present) as well as nightly. The cabin doors are opened during this time to allow good ventilation.
There are no hazardous ingredients in the sprays used so the cabin is safe to enter immediately after use.
All passengers are recommended to register their contact details for the purpose of Track and Trace.
Following Government guidance, food and drink can be bought on board. Please bear in mind that face coverings must still be worn anywhere aboard our services but you may remove your face covering to eat or drink.
In-seat ordering is only available inside the cabin. If you are on the outside deck or if you plan to take away your order, you can order from the bar.
Please note we are offering a reduced menu at present and only accepting cashless payments.
Safety precautions for our staff
Detailed operational workplace procedures have been put in place for all staff - see this internal video from our Fleet Operations team.
All our employees who attend the workplace are required to take a weekly lateral flow test. This requirement extends to all employees, whether they have been vaccinated against coronavirus or not.
PPE is provided for all staff at the start of each shift. Our onboard staff are required to wear a face mask (surgical/civil 3-ply), with the option of gloves and safety glasses, since they are unable to social distance from each other during the boarding process and whilst navigating on the bridge. Clear guidelines have been provided for safe PPE disposal.
All staff complete a health questionnaire when they arrive at work.
Staff are being encouraged to travel to work via their own means of transport, cycling or walking, and to avoid public transport where possible. Uber Boat by Thames Clippers has established enough onsite parking for all staff.
Staggered start and finish times are being considered at Uber Boat by Thames Clippers' sites in order to reduce congestion and contact.
Whenever possible, staff adhere to the 2-metres safe distance; if this cannot be achieved, they remain 1 metre apart and wear face masks.
Useful links
We will continue to keep you updated regarding our services. For the latest news and updates about our services please check the links below.