Do you have to commute for work? Do you enjoy your London commute, or does it make you anxious and stressed? If the latter, you should consider commuting with Uber Boat by Thames Clippers instead. After all, our handy River Bus service stops at 24 piers across London (from Putney to Barking Riverside) and provides easy connections to the capital's business hubs but also the rest of the TfL or National Rail network so you can seamlessly continue your journey.
Many people are surprised to learn that this mode of transportation isn't just for tourists and leisure-seekers – it's a practical option for busy professionals as well. In fact, there are loads of benefits to commuting by river that you might not have considered.
Here are just a few reasons why commuting by river in London is a great option for busy professionals.
5 hard-to-resist benefits of commuting by river in London
Mellow out with some "me" time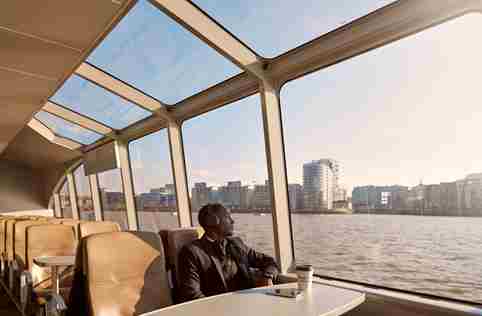 When you commute by boat, you have a comfortable seat and plenty of personal space to call your own. This means you can use your commute time as "me" time – be it to catch up on work, read a book, take a nap, watch your favourite show, or simply relax and meditate before or after a long day at work.
Start your day the very best way
In 2018, we ran a commuter survey and we found out that to wake up in the morning people need a combination of:
A cup of coffee (39%)
Sunlight (31%)
Fresh air (28%)
Fortunately, you can get all 3 of those vital things aboard Uber Boat by Thames Clippers sailings! As well as food, our onboard café bar boasts a variety of cold and hot drinks crafted by trained baristas. Plus, you can enjoy plenty of sunlight and fresh air on the open back-deck .The great views as you glide along the Thames are a bonus.
It can be great for your mental health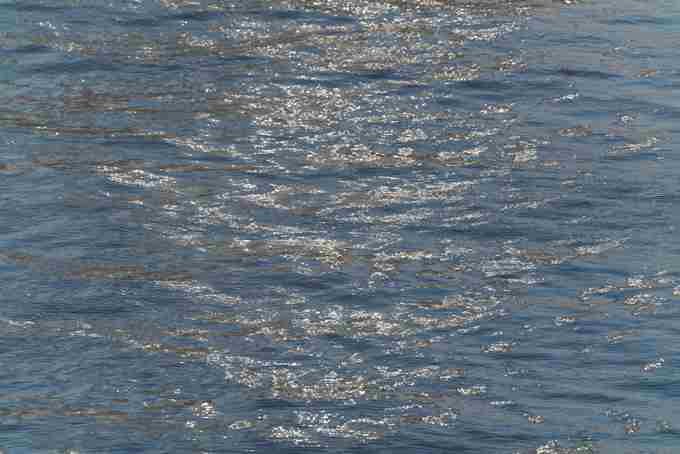 Sunshine on your skin can make you feel good! It triggers the release of a chemical in your brain called serotonin, which can boost your mood and make you feel happy. Yes, you can still get mood-lifting vitamin D on a cloudy day!
Not only this, but according to a study published in the International Journal of Environmental Research and Public Health, "blue spaces" such as rivers, lakes, and oceans have been found to have a positive impact on mental health, including reducing symptoms of anxiety and depression. In fact, exposure to blue spaces has been found to reduce stress levels by up to 21%, improve cognitive functioning, and reduce symptoms of anxiety and depression by up to 38%.*
With the Thames providing such a peaceful and scenic blue space in the heart of the city, commuting by river in London offers more than just a convenient way to get to work. It's also an opportunity to improve your mental health and well-being, with the daylight and the calming effects of the river helping to reduce stress and promote a positive mindset.
And before you say anything, the river Thames is among the cleanest in the world. The brown colour comes from the fact that it's a muddy river, owing to the silt on the riverbed.
You can take your bike on board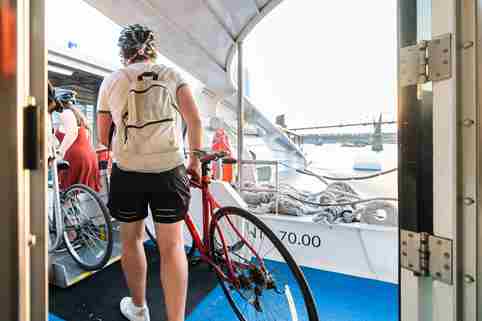 Combining cycling and boating offers Londoners a sustainable, healthy, and convenient way to get to work. With over 1.6 million people living within a 15-minute bike ride of an Uber Boat by Thames Clippers pier, cycling to the pier and then taking a boat to work is a viable option for many. It also makes cycling to work less daunting for those who have been scared to try it.
Bringing a bike on board the boat is a game-changer for commuters seeking a more relaxed and scenic journey to work while offering the added benefit of physical exercise.
It's a cost-effective way to keep your finances afloat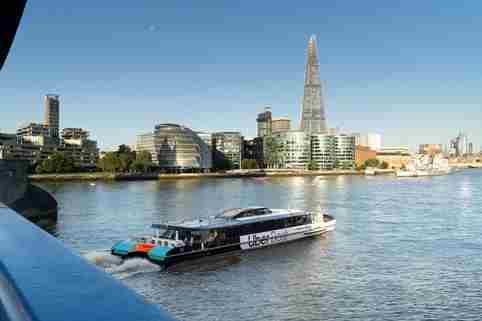 While you may think that travelling by boat is an expensive option, it's actually an affordable and cost-effective way to commute. Not only does it offer a comfortable and stress-free journey with stunning views of the river, but it also saves you money in the long run – especially with our price freeze on season tickets.
Think about it – with boat travel, you don't have to worry about the high cost of fuel, parking fees, or congestion charges that come with driving to work. Plus, our fares are competitive with other modes of transportation, and we offer a range of affordable ticket options to suit different budgets and needs.
For example with our Ticket Carnets, the price per journey can be up to 25% cheaper than paying-as-you-go with a contactless or Oyster card.
Get your work week flowing with a river boat ride
So, to recap, the Uber Boat by Thames Clippers  service offers a convenient, cost-effective, and comfortable option for commuters in London!
With frequent departures, onboard amenities, and a range of ticket options, it's never been easier to make your daily commute more enjoyable and productive. So why not give it a try and experience the thrill of commuting by river in London?
Plan your journey today and start your next workday on the right note!
Browse ticket options
*Source: Gascon, M., Triguero-Mas, M., Martínez, D., Dadvand, P., Forns, J., Plasència, A., & Nieuwenhuijsen, M. (2015). Mental health benefits of long-term exposure to residential green and blue spaces: A systematic review. International Journal of Environmental Research and Public Health.