As we celebrate our 24th birthday this month, we decided to take a nostalgic trip down memory lane to share our fascinating journey as London's River Bus and our commitment to a sustainable future.
Our origins: captains of change
Co-founded by Sean Collins (still our current CEO) and Alan Woods, Thames Clippers set sail for the first time on 24 May 1999 with our inaugural vessel, Storm Clipper, captained by Sean himself. The fleet expanded soon after with the addition of Star and Sky Clippers. These three vessels, now affectionately known as the Hydrocats or "little Clippers", marked the beginning of Uber Boat by Thames Clippers' remarkable journey.
These small boats ferried around 80 passengers per day from Greenland (Surrey Quays) Pier to the Savoy Pier (now Woods Quay) with stops at Canary Wharf and London Bridge piers.
Since then, we have grown leaps and bounds, now serving 24 piers across the river Thames, and we proudly celebrated carrying our 50 millionth passenger in May 2022. This remarkable expansion is a true testament to our commitment to provide reliable alternative transport options for tourists and Londoners alike, allowing them to witness the iconic London landmarks along the river Thames.
The fleet: expanding the Armada
Over the last 24 years, we have continued to welcome new vessels into our fleet. By 2005 we had a total of 7 vessels, including Twinstar that has been carrying DoubleTree by Hilton Hotel London guests, visitors and commuters between Canary Wharf and Rotherhithe. Between 2007 and 2008, we welcomed our Typhoon Class vessels, 6 in total, which boasted a top speed of 29 knots and a capacity to carry 220 passengers.
Later, between 2015 and 2019, we introduced 5 new boats, our Hunt class vessels, which were specifically designed to travel across more shallow waters and under low-lying bridges in the west zone of the Thames.
We also added 12-seater launches to the fleet, Orion Clipper in 2016 and Comet Clipper in 2019.  Orion is used predominantly for luxury private charters whilst Comet operates a daily riverboat light freight service on behalf of DHL, transporting small packages into central London for final mile delivery by bike.
Since our humble beginnings with just three vessels, we have evolved to become a fleet of 20 high-quality boats – solidifying our position as the synonymous River Bus service in the capital.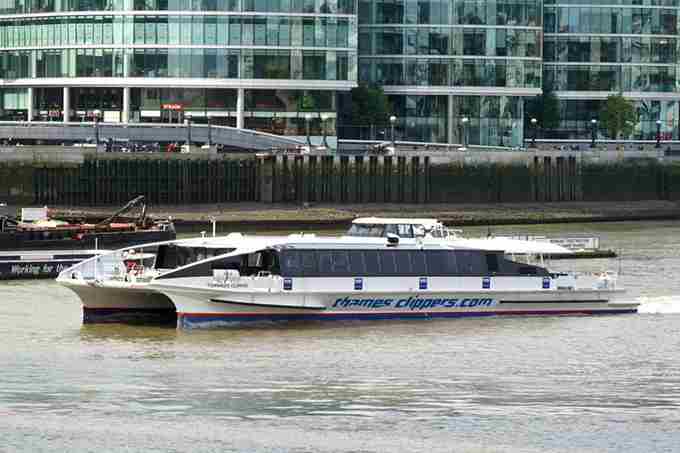 Our partners: an important part of our success
We owe our growth and expansion to the millions of passengers who have travelled with us since day 1 but also to our partners and different sponsorships along the years.
In 2006 AEG, the world's leading sport and live entertainment company, became our majority stakeholder. Their investment in the company, as well the transformation of the Millennium Dome into The O2 on the Greenwich Peninsula, brought great opportunities for the River Bus with new vessels and new routes. Brand sponsorships such as NatWest in 2008, KPMG in 2011, MBNA in 2014 and more recently Uber has brought visibility to the service.
In April 2022, global private markets investment firm Northleaf, acquired a majority interest in the business, bringing new investment to support our plans to deliver sustainable growth, enhanced infrastructure and greater economic development on and around the river Thames.

Last but not least, Transport for London (TfL) has been a major transport partner across the years. We are licensed by the London River Services (LRS) to operate a River Bus service on the Thames. Our services are regulated by TfL who approve our service frequencies, fares, destinations and many other aspects of our operation. TfL provide service information and own a number of the piers we serve but they have also been operating our Oyster/contactless ticketing systems since 2009.  
The people: championing equality and diversity
Inclusivity and equality are at the heart of our values. Our founder and leadership team have instilled a strong commitment to ensuring that everyone, regardless of gender, plays a big part in the organisation. As a result, Uber Boat by Thames Clippers has one of the most gender-diverse workforces on the Thames – a fact of which we are incredibly proud.
In recognition of our dedication to promoting gender equality and inclusivity, Sean Collins was awarded the Male Agent of Change award at the Everywoman in Travel Awards in 2019. This prestigious accolade acknowledges Sean's unwavering passion and commitment to advancing the progress of women in the travel industry, synonymous with our core company values.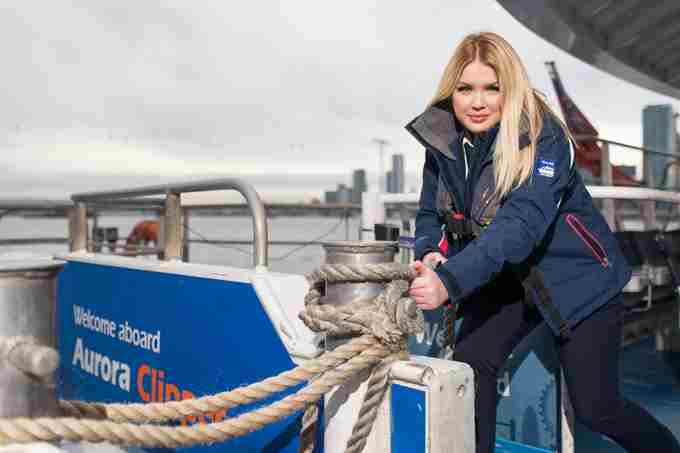 Joining forces: Our partnership with Uber
In August 2020 we joined forces with Uber, transforming us from Thames Clippers to Uber Boat by Thames Clippers.
This dynamic brand and ticketing partnership has opened up several new horizons for us, and giving our customers the convenience of booking tickets through the Uber app and enabling our services to seamlessly integrate with other London travel modes.
A glimpse into the future
As a company, we have always been dedicated to the ongoing sustainability of the river Thames. As a part of this commitment, we have set ambitious goals to achieve net-zero emissions of our new-build boats by 2025, and we aim to extend this to our entire fleet by 2040.
Central to our sustainability efforts is our brand-new hybrid vessel design. We are soon due to launch two new high-speed hybrid ferries; their cutting-edge design enables battery-powered operations within the Central Zone that recharge while using biofueled power outside of central London. These will be the city's most eco-friendly passenger boats while also being our quietest vessels. Earth Clipper and her sister Clipper are due to launch later this year.
Learn more about our hybrid vessels
The future also comes with further eastward expansion with the purchase in November 2022 of the world's oldest surviving cast iron pier, Gravesend Town Pier, ensuring the local communities can benefit from regular river transport links in the coming years. In the meantime we already run sailings from Gravesend and Tilbury into central London on select dates.
Experience the legacy of Uber Boat by Thames Clippers
Join us in celebrating our birthday and embark on a captivating journey across the iconic river Thames. With our extensive network of piers spanning the river, you have the perfect opportunity to see the capital's famous landmarks along the river Thames.
Marvel at the iconic Battersea Power Station, the architectural brilliance of St. Paul's Cathedral, the extravagance of Tower Bridge and the historic charm of Maritime Greenwich. Navigate through the heart of London and immerse yourself in its rich history and culture.
Plan your journey today and take in these marvellous river Thames landmarks!