It's here! On Sunday 2 October the TCS London Marathon returns, traversing through some of the most famous landmarks in the city, including Buckingham Palace, The Cutty Sark, Tower Bridge and Canary Wharf. With up to 50,000 participants, it is set to be the largest marathon ever staged anywhere in the world.
We have put some information together to help you navigate the marathon weekend.
Collecting your Event Pack on Saturday 1 October
If you are planning to collect your Event Pack from ExCeL London on Saturday 1 October but are worried about the rail strike, please note that we will be operating our usual weekend River Bus service. To reach ExCeL London alight at North Greenwich Pier then cross the river by London Cable Car. Alternatively, alight at Royal Wharf Pier and walk, or take the recently extended 241 bus from Royal Crest Avenue which stops close to the pier, and alight at Prince Regent bus stop.
Nearest pier: North Greenwich or Royal Wharf
Travel by river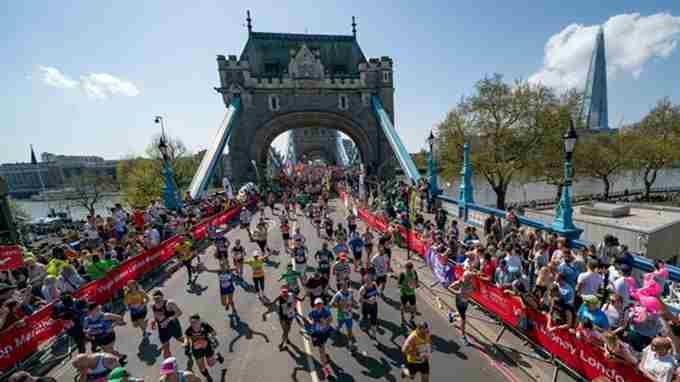 The race requires road closures throughout the city, but we never get caught in traffic, hop pier-to-pier with a River Roamer to follow the race from the river!
Our weekend service stops at several spectator-friendly piers between Barking Riverside and Battersea Power Station including Canary Wharf, Tower and Embankment. 
If you're driving into London to cheer loved ones on, save money and time with a combined ticket that includes parking at The O2 and unlimited all-day river travel from North Greenwich Pier. Check out our Park and Glide tickets.
Direct sailings from Rotherhithe
Perfect for those taking part in the race, or spectators who wish to cheer on from the starting line, on 2 October we'll be operating two special sailings from Doubletree Docklands Pier to Greenwich at 07:00 and 07:30.
To join this service, please purchase a single ticket in advance online, via the Apps, ticket machine or tap in/out with Contactless or Oyster to pay as you go.
Please note these sailings are on a first come, first served basis.